New from research and analysis firm Euroconsult is their FSS Operators: Benchmarks & Performance Review, 10th Edition.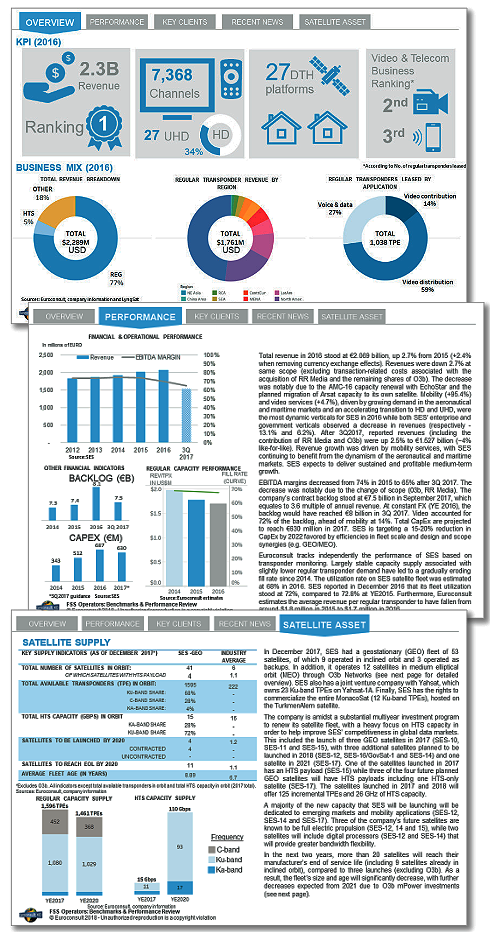 This is the only assessment of all active and pre-operational FSS operators. The report includes publicly-listed and privately-held companies, global, regional and national operators. The result is a detailed profile of each company, providing exclusive data, expert review, and comprehensive analysis of both complex publicly-available information and hard-to-obtain private information.
Highlights
The size of the FSS market has been relatively stable over the last five years ($11.3 billion), but behind this total significant changes have played out. The market share of the top four operators has gradually eroded to 60 percent, while three new companies (YahSat, Thaicom and Insat) have joined the top ten. Twelve new players have emerged in the past five years, including three in 2017 (BRI, BulgariaSat and Telebras), for a total of 46 revenue-generating operators at year-end 2017.
The arrival of new players associated with the rapid expansion of supply and lower growth in demand has contributed to put pressure on FSS operators' business, with margins, fill rates and revenue per transponder all lower today than they were five years ago.
Transformation is expected to continue in the coming years, with new market dynamics (e.g. non-linear video services, managed services, connectivity anywhere and anytime) and evolutions in technology (e.g., NGSO constellations, terrestrial network expansion) significantly impacting the industry and the positioning of FSS operators, who will be forced to adapt their strategies in order to remain relevant in the future. The competitive environment is expected to become even more challenging in the coming years, as 11 new players are planning to enter the FSS GEO market by the early 2020s.
The report includes
37 full profiles
26 mini profiles
11 NGSO constellation profiles
FSS operator ranking by revenues
Excel supply & demand per operator
New in this edition
Graphics have been added or redesigned in this 2018 edition to provide a more compelling view of the business performance and strategy of each operator and the text has been condensed and replaced by graphic content, where possible.
Each company profile contains...
Overview
A mix of performance indicators including total revenue breakdown, regular transponder revenues by region, regular transponders leased by application, number of broadcast channels, number of DTH platforms, video & telecom business ranking.
Performance
Review and analysis of operator's financial performance over the last five years; total revenue, EBITDA, EBIT, net income, operating cash flow, capex, backlog, etc. Includes results up to 3Q17.
Key Clients
A commercial overview, followed by an overview of key telecom and video customers, and a list of channels by orbital position.
Recent news and strategic positioning
Recent news and contract announcements, along with strategic positioning.
Satellite Assets
Includes key supply indicators as of December 2017 such as number of satellites in orbit, available transponders, HTS capacity (GBPS) in orbit, satellites to be launched by 2020, satellites to reach EOL by 2020, average fleet age (in years). Includes both regular and HTS capacity supply (where applicable), by frequency band.
To download the Euroconsult FSS Operators: Benchmarks & Performance Review, 10th Edition brochure, please select