Having supported 17 successful missions for NASA over more than 50 years, United Launch Alliance (ULA) has launched every US spacecraft to Mars, including the Mars Science Lab and the Spirit and Opportunity rovers — the heritage will now continue, as NASA's Launch Services Program has selected ULA's Atlas V rocket to launch the agency's next robotic science rover, Mars 2020.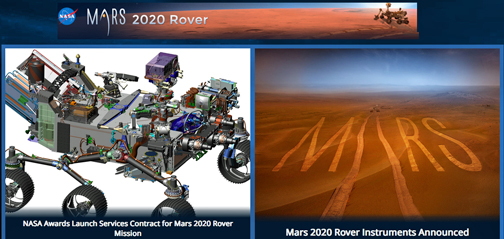 The Mars 2020 rover mission is part of NASA's Mars Exploration Program, a long-term effort of robotic exploration of the red planet, and will address high-priority science goals for Mars exploration, including key questions about the potential for life on Mars. ULA also will launch NASA's Interior Exploration using Seismic Investigations, Geodesy and Heat Transport (InSight) mission to Mars in May 2018.
The Mars 2020 mission is scheduled to launch in the summer of 2020 from Space Launch Complex 41 at Cape Canaveral Air Force Station in Florida. This mission will launch aboard an Atlas V 541 vehicle, which includes a 5 meter diameter payload fairing and four solid rocket motors.