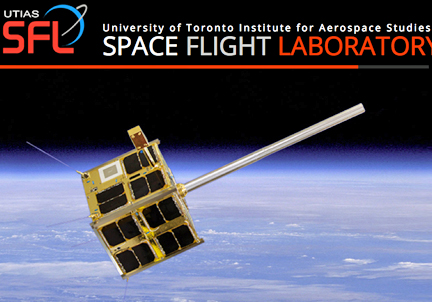 The Space Flight Laboratory (SFL) at the University of Toronto Institute for Aerospace Studies (UTIAS) has announced that NorSat-3, a 15 kilogram microsatellite, has been ordered by the Norwegian Space Center and that construction is well underway — NorSat-3 follows from the successful NorSat-1 and NorSat-2 satellites that were also built by SFL.
This satellite will carry an experimental navigation radar detector to augment ship detection capabilities from its Automatic Identification System (AIS) receiver. NorSat-3 will add another satellite to Norway's assets in space – four in total so far, all producing data related to maritime traffic monitoring. Combining a navigation radar detector and AIS receiver will potentially provide much better maritime awareness for the Norwegian Coastal Administration, Armed Forces and other maritime authorities.
The satellite is funded by the Norwegian Coastal Administration and managed by the Norwegian Space Center. The Norwegian Defence Research Establishment (FFI) is leading the development of the radar detector payload which is funded by the Ministry of Defence. NorSat-3 is designed to capture signals from frequencies which the International Maritime Organization has allocated for civil navigational radars
Automatic Identification System (AIS) message reception alone may not provide a complete picture of maritime traffic. The problem of missing or manipulated AIS messages can only be addressed through the use of supplemental sensing technology. In the case of NorSat-3, a navigation radar detector provides some supplemental support. The detection of navigation radar from ships will provide the ability to verify the accuracy of received AIS messages and also the ability to detect ships whose AIS messages have not been received.
NorSat-3 represents another barrier breaking, paradigm-shifting advance in smaller satellites using SFL's next-generation Earth Monitoring and Observation (NEMO) platform.
SFL built the NorSat-1 and -2 smallsats on behalf of the Norwegian Space Center with support from the Norwegian Coastal Authority, Space Norway, and the European Space Agency. The two smallsats were launched on July 14, 2017. Each weighs approximately 15 kilograms, with main body dimensions of 20x30x40cm.
NorSat-1 and -2 carry state-of-the-art Automatic Identification System (AIS) receivers built by Kongsberg Seatex to acquire messages from maritime vessels. In addition, NorSat-2 has a VHF Data Exchange (VDE) payload that enables higher bandwidth two-way communication with ships. Adding VDE enables increased messaging capacity, better reliability of message delivery, and increased range of ship-to-shore and ship-to-ship communication beyond direct line of sight.
SFL builds big performance into smaller, lower cost satellites and are built with advanced power systems, stringent attitude control and high-volume data capacity that are striking relative to the budget. SFL arranges launches globally and maintains a mission control center accessing ground stations worldwide. The pioneering and barrier breaking work of SFL is a key enabler to tomorrow's cost aggressive satellite constellations.
---
Commencing on February 5, and running through February 8, is the SmallSat Symposium™ in Silicon Valley, California. For those who have a vested or personal interest in the smallsat industry's environs, this is the event of 2018 to attend to receive the latest information and knowledge from dozens of subject-matter experts in workshops, sessions and presentations.
For further details and to register to attend the SmallSat Symposium, please access https://smallsatshow.com.