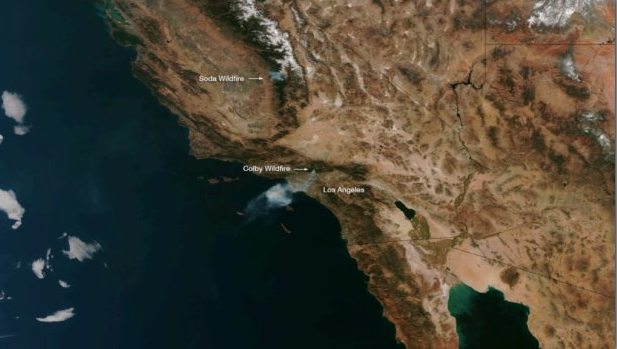 [SatNews] Two perspectives of the Colby Fire in southern California, which has caused personal injury and the destruction of homes.
Persistent Santa Ana winds have once again resulted in dangerous fire-weather conditions in California. Over the last day the Colby Fire, just northeast of Los Angeles, has rapidly spread to over 1,700 acres in size.
The Suomi NPP satellite captured this image of the fire on January 16, 2014 at 20:30 UTC. The GOES satellite is also monitoring the evolution of air quality hazards from the fire as winds drive the smoke over the downtown Los Angeles area. An unannotated version of this image can be found here.
The Suomi National Polar-orbiting Partnership (NPP) mission represents a critical first step in building the next-generation Earth-observing satellite system that will collect data on both long-term climate change and short-term weather conditions. NPP is the result of a partnership between NASA, the National Oceanic and Atmospheric Administration, and the Department of Defense.
Additional information regarding the Colby Fire from the perspective of being on the ground.
A wildfire in the foothills above Glendora Thursday morning was slowing its advance in the Angeles National Forest Thursday evening after burning 1,700 acres. Three persons are injured and at least five homes have been destroyed so far. Evacuations are in effect.
Officially called the Colby Fire, the blaze was centered in the San Gabriel Mountains just north of Glendora, about 25 miles northeast of downtown Los Angeles.
Three men were arrested Thursday as suspects in a wildfire that has burned more than 1,700 acres of forest northeast of Los Angeles, authorities said.

One person burned in the Colby fire required treatment at a hospital, the Los Angeles Times reported. The fire just started just after dawn Thursday morning in the Los Angeles National Forest and spread quickly in the hot, tinder-dry conditions.
At least two homes in the city Glendora were consumed by flames. Three men, all in their early 20s, were arrested on suspicion of deliberately starting the fire and held on $20,000 bail. They told police wind blew papers from their campfire and set brush ablaze, the Times said.
Glendora's mayor declared a state of emergency. The fire caused scattered electric power outages