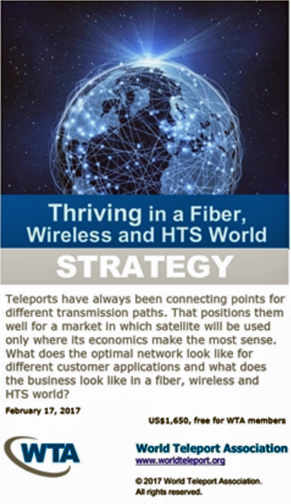 Since 1985, the World Teleport Association has focused on improving the business of satellite communications from the ground up and the organization has just released a new research report entitled Thriving in a Fiber, Wireless and HTS World.

Teleports are traditionally associated with fixed satellite communications, but they have always been connecting points for different transmission paths. That positions them well for a market in which satellite will increasingly be used only where its economics make the most sense. What does the optimal network look like for different customer applications? How do operations, staffing, processes and capital expenditure change in a fiber, wireless and HTS world? How does the teleport maintain its value proposition in competition with terrestrial carriers, data center operators and satellite operators running vertical, by-the-megabit services?
Teleports in a Fiber, Wireless and HTS World examines the business decisions teleport operators are making today to build value in their operations regardless of transmission paths, and to deal with new competitors, access new customer, and master the multiplying technologies of tomorrow's more complex networks.
"Teleports have always been connecting points for the terrestrial and space network," said WTA executive director Robert Bell. "Never before, however, have there been so many different kinds of networks and services connecting. Teleports have to design optimal network solutions for their customers while preserving and strengthening the value they deliver. Our report explores how they manage that balancing act."
Report information at: worldteleport.site-ym.com/store/ViewProduct.aspx?id=8506185