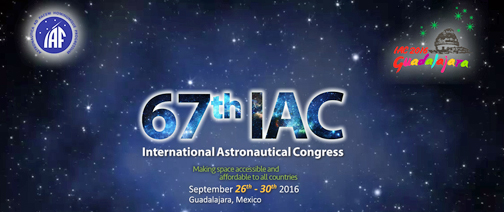 Upon the closing of the 67th International Astronautical Congress in Guadalajara, Mexico, Jean-Yves Le Gall, CNES President, was inaugurated as the President of the International Astronautical Federation, following a handover from Kiyoshi Higuchi, who was the President of the Federation for the past four years.
As in previous years, the IAC kept brought together a record number of 5,217 delegates from the international space community, including scientists, academics and representatives of agencies and industries. The 2016 edition will certainly be remembered for the multitude of Mars exploration projects presented by space agencies, industries and New Space representatives. In addition, worldwide Heads of Agencies reaffirmed their commitment to tirelessly work for climate protection and also discussed a broad variety of topics at stake.
Jean-Yves Le Gall was elected unanimously at last year's IAC in Jerusalem, when he was already Vice-President of IAF, in charge of industry relations, to the position of President, which he will hold for a period of three years.
Jean-Yves Le Gall said on the occasion of his election, "It is an honor to take the IAF presidency. Our Federation plays a fundamental role on the international space scene, bringing together scientists, academics, representatives of agencies and industries from around the world. In fact, the IAC is the only place where, every year, the entire space family gathers to discuss on and work for the advancement of knowledge and encourage the promotion of space activities. Therefore, I am proud to take on these functions for the next three years, following the leadership of Kiyoshi Higuchi to whom I pay tribute to for renewing the IAF governance and for having prepared it for future challenges. I also thank the Bureau and the IAF Executive for having prepared me in the year preceding this day when I take this particularly prestigious function."