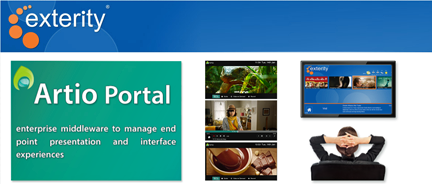 [SatNews] Exterity (CABSAT stand G4-22, hall 4) has announced that CABSAT 2014 will see the company demonstrate its extended portfolio tailored to the needs of Middle Eastern broadcasters and pro-AV installers.
New developments include a fully HDCPv2-compliant portfolio, SDI &HD encoding capability, dual tuners in TVgateways and enhanced system management in AvediaServer 6. Visitors to the Exterity booth will see how the entire IPTV system adapts to the local specifics while also ensuring that the content industry's security requirements are met fully.

Exterity is the only vendor offering a fully HDCPv2 compliant video over IP product portfolio. This enables system integrators, pro-AV installers and consultants designing and specifying networked video solutions to deploy a single IP-based system to securely distribute video to a large number of end points. Developed specifically for IP distribution, by integrating HDCPv2 in its portfolio, Exterity offers double protection through a full HDCPv2 license and interoperability with trusted encryption technologies, future-proofing the IPTV system to comply with the content industry's security requirements for commercial entertainment in business environments. HDCPv2 support is available in the Exterity encoders, receivers/set-tops as well as PC and Mac desktop clients. The secure distribution of content is complemented by dual tuners integrated with the Exterity TVgateways to enable the seamless delivery of multiple signals to every screen, enabling organizations to maximize the reception of both internal and external TV channels. In addition to encrypted content, the Exterity system can encode HD and SDI to transmit uncompressed, unencrypted digital video signals within television facilities.

Exterity has also enhanced its AvediaServer suite. The latest version, AvediaServer 6, enables system administrators to manage IPTV devices and software clients, as well as monitor the end user access and content libraries. Extended capability demonstrated at CABSAT includes the latest version of Artio portal, which facilitates the creation and management of customized TV, VoD, radio and interactive pages and offers a consistent user interface across multiple end points. Artio 6.2 features include SecureMedia registration through a desktop plugin for PC and MAC, PMS (property management system) support and integration such as increased performance of channel list and responsiveness of EPG (Electronic Program Guide). Artio now also supports Arabic to facilitate the deployment of the Exterity IPTV systems in Middle Eastern organizations.
The Exterity infosite is located at: http://www.exterity.com/