An article at the NASA Earth Observatory website, authored by Adam Voiland, posts that, in Spanish, Sierra Nevada means "snowy mountain range." During the past few months, the range has certainly lived up to its name. After a dry spell in December, a succession of storms in January and February 2019 have blanketed the range.
In many areas, snow reports have been coming in feet not inches. Back-to-back storms in February dropped 11 feet (3 meters) of snow on Mammoth Mountain — enough to make it the snowiest ski resort in the United States. More than 37 feet (11 meters) have fallen at the resort since the start of winter... with more storms on the way.

The Moderate Resolution Imaging Spectroradiometer (MODIS) acquired these natural-color images below of the Sierra Nevada on February 11, 2019, and February 15, 2018. In addition to the much more extensive snow cover in 2019, notice the greener landscape on the western slopes of the range. (Note: NASA Earth Observatory images are by Joshua Stevens, using MODIS data from NASA EOSDIS/LANCE and GIBS/Worldview.)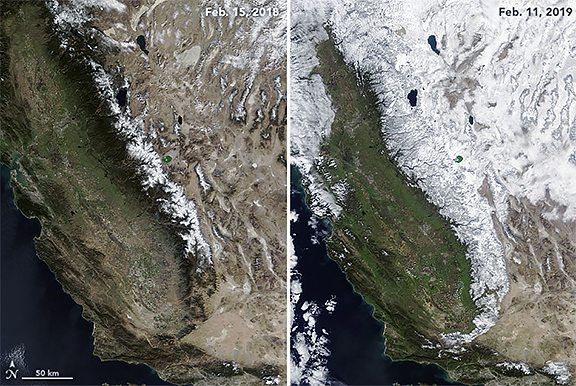 Statistics complied by the California Department of Water Resources indicate that the mountain range had a snow water equivalent that was 130 percent of normal as of February 11, 2019. It was just 44 percent of normal on Thanksgiving 2018. Last season, on February 15, 2018, snow cover was at a mere 21 percent of normal.
To read the entire article, please access this direct link...