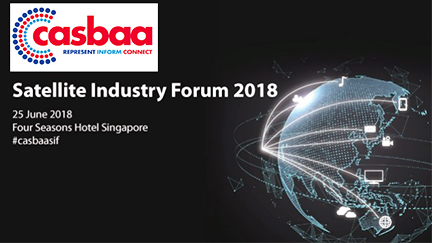 Opening the Casbaa Satellite Industry Forum in Singapore last Monday, June 25, CEO Louis Boswell set the tone for the day as he told delegates that those in the satellite communications industry need to "see change as a challenge to grow, develop and become stronger to benefit the larger ecosystem."
Furthermore, he added that Casbaa is uniquely positioned, with video as the common glue, to talk about — and promote — developments, innovations in and the relevance of the satellite ecosystem, noting that Casbaa will continue to represent and satellite will continue to be relevant.
The conference was designed to bring together a wide range of world-class speakers from the industry to deal with crucial issues, encouraging robust and frank debate. Topics covering innovation, the need for partnerships, better revenue generation methods, the implications of video, connectivity, and 5G were all discussed at the full-day conference for the satellite industry.
The theme of change was supported throughout the day, initially by John-Paul Hemingway, CEO of SES Networks in his opening keynote, who said that "the satellite industry must become part of the mainstream. The industry cannot be limited to innovating in space; we have to be bolder, we cannot be niche".
Mitsutoshi Akao of SKY Perfect JSAT noted that, "we are starting to think how to expand our space business not just in GEO but also in drones, LEO, MEO, etc". This was further supported by AsiaSat's Barrie Woolston, who reaffirmed to all that opportunities for growth will indeed remain.
Change was also apparent in the approach being taken by major industry players in actively seeking partnerships. Huang Baozhong of APT Satellite advised that his company maintains a good profit margin, but is looking for partners in other parts of the world.
Jean-Francois Fenech of Eutelsat Asia added that his company's main business in Asia is around mobility and data, and Eutelsat Asia is looking to grow the video and DTH business in the region.
Satellite fleet operator ABS's Jim Simpson stated that his firm has the rights to 15 orbital slots, which are currently vacant. ABS is also looking for partners, including satellite manufacturers, to fill those slots before they expire.
The other prominent discussion of the day centered around 5G, with SES Network's JP Hemingway noting that every single telco customer the company has is asking SES about the firm's 5G strategy and how they can partake in 5G trials. It's going to take a huge amount of time and redesigns before the company gets there, he said, but SES needs to find a way to play in that space.
According to Terry Bleakley of Intelsat, 5G will require a hybrid network and the development cycle offers the satellite sector an opportunity to become a core part of the telecoms solution.
In the closing panel of the day, THAICOM's Nile Suwansiri stated that for satellite to be successful it is not just about cost, but about establishing demand for satellite's role in 5G.
Other panellists all agreed on the "we" approach as that will enable newer types of applications, standards and innovation.
Change is in the air for the satellite industry and Casbaa CEO, Louis Boswell, announced that this also applies to Casbaa, with the annual conference event, the Casbaa Convention, moving back to Hong Kong and being rebranded as the Asia Video Summit.
The Satellite Industry Forum was supported by APSTAR, AsiaSat, Boeing, Effective Space, Eutelsat, Hughes, International Launch Service (ILS), Integrasys, Marsh, MEASAT, Newtec, NorthTelecom, SES, SKY Perfect JSAT Corporation, SpaceX and SSL.
Casbaa is the trade association for the video industry and ecosystem in Asia Pacific and serves to make the video industry stronger and healthier through promoting the common interests of the association's members. Casbaa leads the fight against video piracy, publishes in-depth reports and hosts conferences and seminars aimed to support a vibrant video industry. For more information, visit.