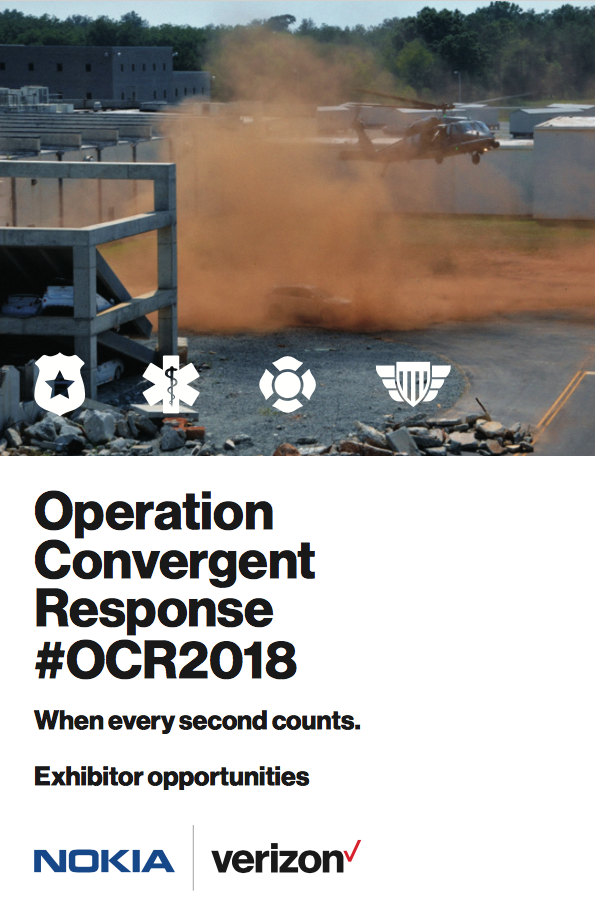 Mobile connectivity is critical for first responders, and addressing this issue is an event dedicated that issue, Operation Convergent Response (#OCR2018), November 5 - 8, 2018, at the Guardian Centers in Perry, Georgia. This second annual event is hosted by Verizon and Nokia in collaboration with the Guardian Centers and Aegex Technologies, which attracts those companies that offer solutions for ensuring that satellite communications run smoothly despite the situation.
VT iDirect, Inc. (iDirect), a provider of satellite communications, and Kymeta, the communications company making good on the promise of global mobile connectivity, will demonstrate their latest technology that can assist emergency first responders during Operation Convergent Response (#OCR2018), November 5 - 8, 2018, at the Guardian Centers in Perry, Georgia. #OCR2018 brings together dozens of the world's most innovative companies to showcase their technologies that can enhance emergency response operations.

Satellite communications is critical in enabling first responders to immediately communicate, coordinate and react to any situation. Whether in a densely populated urban area with damaged infrastructure, or a remote location where no infrastructure exists, satellite-enabled mobile command vehicles provide a lifeline during emergency response operations by coordinating essential services, helping restore communities and allowing residents to connect with loved ones.
With the Kymeta™ KyWay™ terminal, first responders can take real-time communications with them to the frontlines. VT iDirect and Kymeta have teamed up to create a reliable, always-on communications hub for first responders by outfitting an All-Terrain Vehicle (ATV) with a KyWay terminal.
The terminal's flat panel antenna with an integrated iDirect satellite modem is small enough to fit on a variety of emergency vehicles, such as patrol cars, ambulances, fire trucks and SWAT vehicles. This allows first responders to communicate through their existing tools such as radios, smart phones or laptops, providing updated information on the situation they are entering to the command center. Upon arrival on scene, the mobile communications solution becomes a mobile hotspot, allowing first responders to send crucial data such as readings from radiation sensors or live camera feeds, enabling accurate and detailed emergency response coordination.

Darren Ludington, Regional Vice President of Sales Americas, VT iDirect said that quick response time makes a difference between life and death in many emergency situation. Their collaboration with Kymeta enables first response teams to be supported by seamless communications and real-time information, helping them to make more informed decisions as they enter disaster situations to save lives.

iDirect satellite communications solutions will be showcased at the Verizon Mobile Command Center and the KyWay terminal will be featured on the CanAm Response Vehicles used during the Hurricane and Shooting scenarios at #OCR2018. To learn more about iDirect solutions, visit the presentation at the Guardian Centre on Wednesday, November 7, 2018, at 11:30 a.m., and the VT iDirect booth located at the Technology Solutions Showcase.