[SatNews] It was a long process, with three delays, but at last victory.

Arianespace is on track for a record launch performance in 2014 following last night's Vega mission from the Spaceport in French Guiana, which successfully orbited a pioneering Earth observation satellite for the Republic of Kazakhstan.
Lifting off from the SLV launch site at 10:35:15 p.m. local time—which was the planned precise moment of launch—Vega was put through its paces to loft DZZ-HR, renamed "KazEOSat-1" after reaching Sun-synchronous orbit, during a flight lasting 55 minutes.

As an 800-kg.-class Earth observation spacecraft, KazEOSat-1 is to provide the Republic of Kazakhstan with a complete range of civil applications, including monitoring of natural and agricultural resources, provision of mapping data, and support for rescue operations in the event of a natural disaster.

In post-launch comments from the mission control center, Arianespace Chairman & CEO Stéphane Israël congratulated the Kazakh space agency KazCosmos on tonight's success, and applauded the work of Airbus Defence and Space – Arianespace's customer for this flight, and the prime contractor for KazEOSat-1.


"I am impressed by the way this program has been controlled from the very beginning and how Airbus delivered on its promises, whether technical or programmatic, especially regarding schedule, which is impressive," he added.

François Auque, Executive Vice President—Space Systems at Airbus Defence and Space, called tonight's mission a "perfect launch," and recognized Arianespace's "outstanding job" in delivering the satellite payload. "As I am prime contractor for the Ariane launcher, I know all the challenges of being a service provider, and I know all the skills involved," he stated. "I really want to thank the wonderful team of Arianespace in delivering this splendid launch."

Tonight's mission, designated Flight VV03, marked the third launch of a Vega, which joins Arianespace's medium-lift Soyuz and heavyweight Ariane 5 to form the world's most capable family of launchers, operating side-by-side at the Spaceport.

Conceived for the orbiting of small- to medium-sized satellites, including institutional and scientific spacecraft, Vega was developed in the framework of a European Space Agency (ESA) program financed by Italy, France, Germany, Spain, Belgium, the Netherlands, Switzerland and Sweden. The launcher design authority and prime contractor is Italy's ELV—a joint venture company of Avio and the Italian ASI space agency—while Arianespace is responsible for handling the launch operations.
The first Vega launch (designated Flight VV01 in Arianespace's numbering system) was a qualification mission performed in February 2012, carrying the LARES laser relativity satellite, a small ALMASat-1 technology microsatellite demonstrator, and seven CubeSats. It was followed by Flight VV02 in May 2013, which orbited the Proba-V, VNREDSat-1 and ESTCube-1 satellites.

Israël noted that Vega already has become a commercial success in the emerging Earth observation satellite market, and gave much credit to the Italian launch industry, ELV, and its shareholders, Avio and ASI. "With 13 more launch vehicles already ordered to ELV, the strong partnership between Arianespace and the Italian launch industry is in full swing and covers the needs until the end of 2018 at least," he added.

In his post-launch comments, Israël also paid tribute to all those involved in Vega's ground operations on site at the Spaceport. "This campaign has been outstanding," he said. "The numerous improvements that have been implemented to decrease Vega's processing time by as much as 35 percent, as well as total mobilization from the teams and their remarkable efforts, draw the admiration and boost our competitiveness."

Tonight's Vega success was Arianespace's fourth mission so far in 2014, putting the company on track to perform a total of 12 launches from Europe's Spaceport during the year, which would mark a new record, surpassing the 10 launches in 2012. It follows the Ariane 5 flight that orbited ABS-2 and Athena-Fidus in February; Ariane 5's March success with ASTRA 5B and Amazonas 4A; and the Soyuz mission to loft Sentinel-1A earlier this month.
Statement from Airbus

KazEOSat-1 (formerly known as DZZ-HR), the Republic of Kazakhstan's first Earth observation satellite, was successfully launched last night on board a Vega launcher from the European Spaceport in Kourou (French Guiana). It is in a low Sun-synchronous orbit (about 700 km from Earth), from which it will operate, and has sent the first operational signal. KazEOSat-1 was built entirely by Airbus Defence and Space, the world's second largest space company.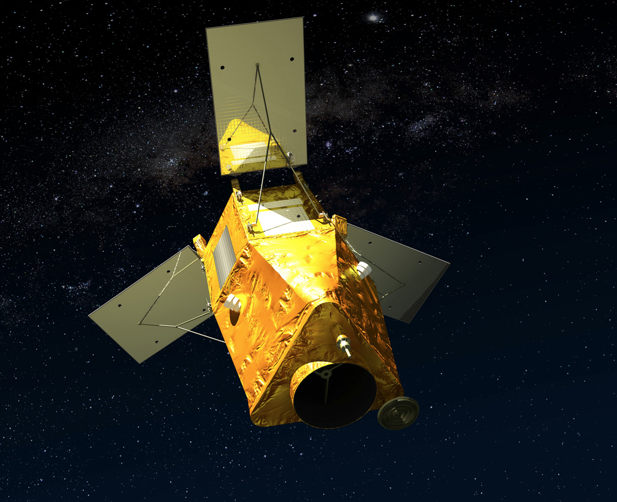 "Bravo to the Arianespace teams, who are responsible for the marketing and commercial exploitation of the European launchers at the Guiana Space Centre, for this latest success!", said François Auque, Head of Space Systems. "And bravo as well to the Space Systems teams who have given their very best to provide the Republic of Kazakhstan with this cutting-edge multi-mission satellite".
KazEOSat-1 is a very high-resolution (1 meter) satellite weighing 900 kg that will provide the Republic of Kazakhstan with a complete range of civil applications, including monitoring of natural and agricultural resources, the provision of mapping data, security applications, and support for rescue operations in the event of natural disasters.

KazEOSat-1 is based on the Astrobus platform, including technologies combining performance, quick delivery and high value for money, designed for missions as varied as imaging (Pléiades, SPOT 6 & 7, Ingenio, and others), environmental monitoring (Sentinel-2) and meteorology (Sentinel-5p). This state-of-the-art system also benefits from the unique expertise developed by Airbus Defence and Space in the field of SiC (silicon carbide) space structures and instruments. Together with its partner Boostec, the company has managed to create, through a series of achievements in space (e.g. Herschel, Gaia), an economic sector that is today crowned with success. The SiC produced in the Midi-Pyrénées region is exported worldwide.

KazEOSat-1 is the high-resolution element of a space observation system that will comprise two satellites and their ground segment. The medium-resolution satellite, KazEOSat-2, is built by SSTL, a British subsidiary of Airbus Defence and Space.
These two satellites form part of "Kazakhstan's Space Plan", which also includes the construction in Astana, the capital of the Republic of Kazakhstan, of a satellite integration & test center, for which key equipment is being supplied by Airbus Defence and Space. In 2009, Airbus Defence and Space was chosen by Kazakhstan as a strategic partner in this Space Plan, and has already trained 60 engineers and technicians from Kazakhstan. Airbus Defence and Space and the joint stock company Kazakhstan Garysh Sapary, a national company under the supervision of the National Space Agency of the Republic of Kazakhstan, have formed a joint-venture named Ghalam in order to run this centre.
Airbus Defence and Space currently is the world's leading exporter of Earth observation satellites.