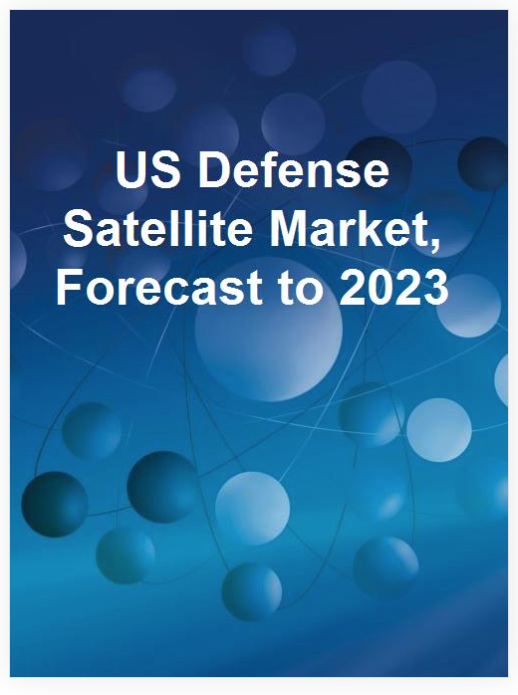 It's a sobering thought and though some would prefer to not think about 'it', that is not what the U.S. Department of Defense (DoD) is doing. In fact the DoD is preparing for a conflict that it expects will take place above the Earth, in space. As the nation with the largest number of satellites, it is taking every precaution to ensure that these systems are safeguarded and constantly operational. U.S. adversaries' threats are evolving with the use of cyber techniques and spoofing tactics and the development of anti-satellite weapons to render these space vehicles ineffective.
Addressing the following issues is presented in this report, US Defense Satellite Market, Forecast to 2023.
The protection of satellites is paramount to ensure that U.S. military capabilities (surveillance, missile detection, command and control) are available and operational. Enhancing satellite system signal strength and anti-jamming capability are trends attracting more competitors into the market.
What should be encouraging is that funding for defense space programs is escalating and is opening window of opportunity for companies to enter the defense satellite market; however, those windows also close quickly.
Research scope includes spending on the following segments:
Asset Defense: Programs and development efforts to protect the functionality of defense satellite systems.
Asset Development: Research and development efforts intended to enhance the capabilities of defense satellite systems in all categories.
Communications (comms): Satellite communications (SATCOM) systems dedicated to support DoD operations.
Detection/Warning: Development, upgrades, and maintenance of satellite systems that serve as an essential element in the process of alerting US defense entities of an impending attack.
Ground Elements: Support components on the ground that control and track satellite systems. Ground elements are also key nodes that collect and relay information generated by satellite systems.
Meteorological: Developments of satellite systems dedicated to provide weather data for military operational planning and execution.
Position Navigation and Timing (PNT): Global positioning satellites (GPS) provide essential PNT that enhance warfighter capabilities.
Surveillance: This segment focuses on the spending allocated for the observation of space assets, whether from the ground or from space.
Key issues addressed
Is the defense satellite market growing, and which segments are landing the highest value of government contracts?
Which companies are leading the market, and how are they ranked?
What factors are driving or restraining the market?
What significant trends are occurring in the market?
Are there any growth opportunities in the market?
Key conclusion
Detailed spending on the Military Intelligence Program (MIP) and National Intelligence Program (NIP) are not publicly released due to their sensitive nature.
Key topics covered:
1. Executive Summary
2. Market Overview
3. Drivers And Restraints-Total Defense Satellite Market
4. Forecasts And Trends-Total Defense Satellite Market
5. Market Share And Competitive Analysis-Total Defense Satellite Market
6. Growth Opportunities And Companies To Action
7. Asset Defense Segment Analysis
8. Asset Development Segment Analysis
9. Comms Segment Analysis
10. Detection/Warning Segment Analysis
11. Ground Element Segment Analysis
12. Meteorological Segment Analysis
13. Pnt Segment Analysis
14. Surveillance Segment Analysis
15. The Last Word
16. Appendix
Companies mentioned include:
L-3 Communications
Technology Service
Physical Optics
Linquest
Braxton
Ball Aerospace
Iridium Satellite
Lockheed Martin
Engility
United Launch Services
Harris
Northrop Grumman
Space Exploration Technologies Corp
Orbital Sciences
Boeing
Raytheon
Tecolote
Malin Space Science
BAE Systems
For more information about this report visit.