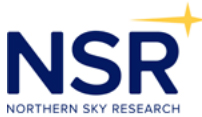 Building on nearly a decade and a half of analysis, NSR's Government and Military Satellite Communications, 14th Edition, explores the leading trends, drivers, and restraints in the Government and Military Satellite communications markets.

Focusing on four core markets: Bulk Leasing, Aeronautical, Maritime, and Land-based segments across narrowband to broadband commercial satellite capacities; GMSC14 continues where the 13th Edition left off — has the Government & Military market shifted into a growth period?

This report answers the following Key Questions:
The COMSAT vs. MILSAT debate: what is the current state of play?
MILSAT Systems: what are the major military satellite programs? Which countries are implementing their own national programs? What new actors are emerging?
U.S. Military involvement: is the U.S. truly seeking lower involvement overseas, or is the reverse true? What effect will this have on market growth?
Rise of Unmanned Aerial Systems (UAS): is there an increasing market for SATCOM-equipped UAS platforms beyond U.S./NATO?
The emergence of High Throughput Satellites (HTS): how has HTS affected FSS markets? What does this mean for capacity pricing?
Opportunities and Trends: what regions and frequencies still provide opportunities for growth for commercial operators? Which regional players are becoming more relevant at SATCOM hot-spots?
Shifting Tides: what are the regions with the most global focus? Is there a continued trend of the "Asia-Pivot" occurring?
To learn more and to order this in-depth report and analysis, please access this direct link...