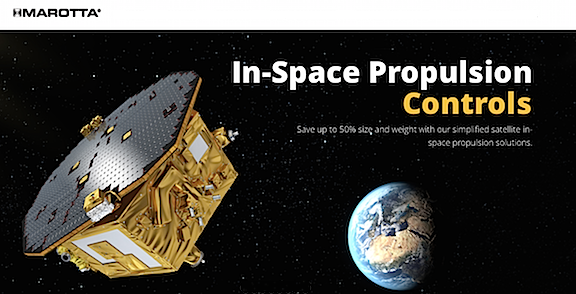 [Satnews] Marotta Controls announces today that it has been awarded a contract from Thales Alenia Space UK Ltd to develop the Xenon Pressure Regulation Assembly (XPRA) for the electric propulsion system of its new Spacebus Neo satellite platform.
Spacebus Neo is the Thales Alenia Space UK Ltd next-generation satellite platform and will be developed with the support of the European Space Agency (ESA), under the ARTES 14 Neosat program. This new platform is targeting a 30 percent decrease in the cost of a megahertz capacity into geostationary orbit and will be optimized for electric propulsion. Marotta's XPRA will provide the critical function of precise regulation of xenon throughout the life of the satellite.
The Xenon Pressure Regulation Assembly comprises critical flight qualified components based on Marotta's heritage electric propulsion technologies. The key to the XPRA is Marotta's patented Multi-Function Valve (MFV) - a unique proportional control device that provides the precise regulation and flow characteristics required for the Spacebus Neo propulsion system. The MFV was flight qualified in the critical drag compensation system of the highly successful GOCE satellite where it operated continuously throughout this extremely challenging mission.
"We are very excited to join the Thales Alenia Space UK team for the development of this significant next-generation satellite platform," said Michael Leahan, senior vice president and chief sales officer of Marotta Controls. "It is a privilege to work with Thales Alenia Space and we look forward to supporting this program."