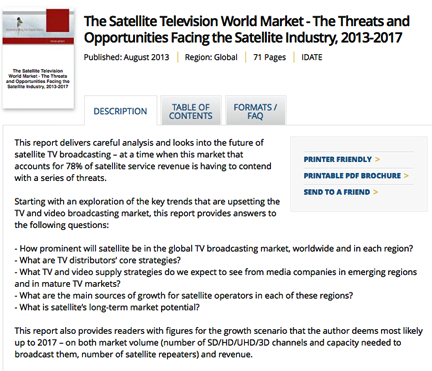 [SatNews] Research and Markets has announced the addition of the "The Satellite Television World Market - The Threats and Opportunities Facing the Satellite Industry, 2013-2017" report to their offering.

This report delivers careful analysis and looks into the future of satellite TV broadcasting—at a time when this market that accounts for 78 percent of satellite service revenue is having to contend with a series of threats.
Starting with an exploration of the key trends that are upsetting the TV and video broadcasting market, this report provides answers to the following questions:
How prominent will satellite be in the global TV broadcasting market, worldwide and in each region?
What are TV distributors' core strategies?
What TV and video supply strategies do we expect to see from media companies in emerging regions and in mature TV markets?
What are the main sources of growth for satellite operators in each of these regions?
What is satellite's long-term market potential?
This report also provides readers with figures for the growth scenario that the author deems most likely up to 2017 - on both market volume (number of SD/HD/UHD/3D channels and capacity needed to broadcast them, number of satellite repeaters) and revenue.

Key Topics Covered:
Executive Summary
Methodology
The TV distribution market: a major market for the satellite industry
The TV distribution market is being impacted by multiple changes in consumption patterns
TV and video distribution strategies forced to adapt
Market forecasts, risk and opportunity factors for satellite operators
For more information,access this direct infopage link.