[Satnews] The European Mars satellite ExoMars Trace Gas Orbiter is ready for launch.
On March 14, the satellite will begin its roughly seven-month journey to the Red Planet from the Russian cosmodrome in Baikonur. Products built by the leading European Supplier to the space industry, RUAG Space, are on board.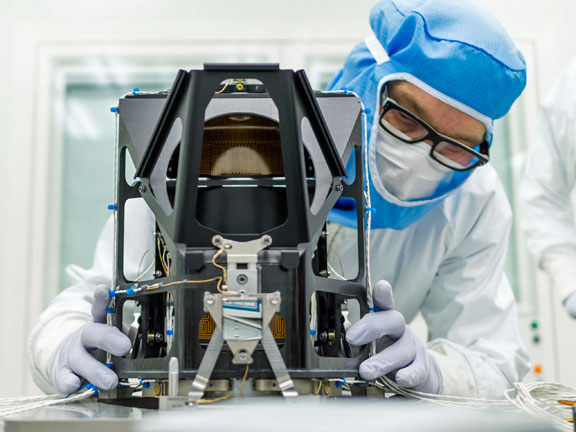 ExoMars is a joint program by the European Space Agency (ESA) and the Russian space agency Roscosmos to explore Mars and its environment. The main goal is to investigate whether life has ever existed on the Red Planet—and even whether it might still exist.
The ExoMars program is divided into two parts. The first mission consists of a Mars orbiter—the Trace Gas Orbiter (TGO)—and a landing module called Schiaparelli. The second mission, which is scheduled to launch in 2018, will place a European Mars rover and a fixed Russian platform on Mars. The space technology company Thales Alenia Space is the prime contractor for this first mission.
In Switzerland, RUAG Space developed and manufactured the swivelling telescope for Cassis, a high-resolution camera that the orbiter will use to produce exact images of the Red Planet's surface on the search for methane sources and a suitable landing place for the future Mars rover.An artistic rendition that visualizes the separation of the payload fairing during the ExoMars 2016 launch sequence. The Trace Gas Orbiter with the entry, descent and landing demonstrator module, Schiaparelli, can be seen as the fairing falls away.
During its six-year mission, the Mars orbiter will be shielded by a protective covering. The thermal insulation comprises several layers of very thin metallized plastic film and is designed by RUAG Space to meet the specific insulation requirements and individually adapted to fit the satellite's complex surface shape. In order to radiate off the heat generated by the scientific instruments, individual surface sections are covered with optical solar reflectors (OSRs) mounted on panels by RUAG Space.
The orbiter's central control computer, the slip rings for the pivoted solar panels also come from RUAG Space as does the separation mechanism for detaching the Schiaparelli landing module from the Mars orbiter.