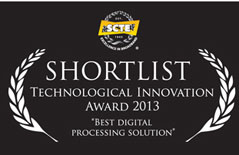 [SatNews] "Operators are scaling up capacity at an incredible rate and they need the tools to keep control of service quality...
The SCTE (Society for Broadband Professionals) has chosen Bridge Technologies' VB330 among the recipients of its 2013 Technological Innovation Awards. Listed in the 'Best digital processing solution' category, the 10G VB330 was honored alongside products from Teleste Corporation, Harmonic and Motorola at the Society's annual awards in London.
Designed for extremely high-density applications at points of maximum data throughput in 10GB core networks, the VB330 offers telcos, network operators, and digital media organizations a monitoring solution with the potential for scaling to match almost any level of throughput. It is the flagship in Bridge Technologies product range. Equipped with up to two 10G Ethernet inputs it is capable of monitoring thousands of streams in backbone networks and central head-ends. The VB330 utilizes the same visual and intuitive approach to monitoring and analytics as other probes.
Measurement analytics are available via easy drill-down functionality and the patented Bridge Technologies MediaWindow™ technology renders monitoring and analysis of the complex much simpler. Three full VB330 Probes can be fitted into the EC 1RU chassis, offering the highest performance to form-factor available.

When so much monitoring capacity is packed into one unit, redundancy becomes a serious issue. The chassis used to house the VB330 therefore includes a dual power supply, minimising the risk of losing monitoring due to power supply failure. Furthermore, as goes for all VideoBRIDGE probes, dedicated telco grade hardware is used throughout, to ensure the longevity and stability needed for professional operation.
The VB330 can be controlled directly via HTTP using a standard WEB browser, or it can be part of a VideoBridge Controller system which includes other devices. This makes the 10G VB330 the logical extension of the Bridgetech product suite.
"The SCTE award is another example of the widespread recognition that the 10G VB330 is playing an important part in the development of cutting-edge infrastructure," said Simen K. Frostad, Bridge Technologies chairman. "Operators are scaling up capacity at an incredible rate and they need the tools to keep control of service quality. The 10G VB330 with exceptional performance/density ratio and its bulk analysis engine licensing is the standout product on the market today."