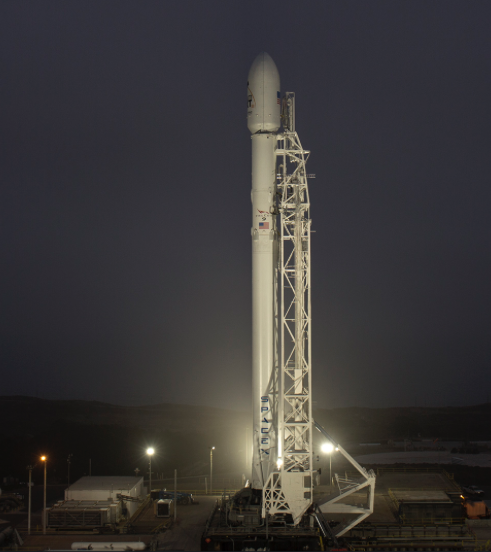 Space X is ready for Monday's launch sending up the next batch of Iridium® Satellites ...
Standing at attention the Falcon 9 Rocket is vertical at Vandenberg Air Force Base and ready for their third Iridium® NEXT launch in partnership with SpaceX.
This will be the third set of 10 Iridium NEXT satellites on October 9th, at 5:37a.m. PDT / 12:37 p.m. UTC on SpaceX's Falcon 9 rocket. The full payload and rocket have been transported to the launch pad, and the rocket is vertical for launch. Once deployed, there will be a total of 30 Iridium NEXT satellites in low Earth orbit.
Iridium NEXT is the company's $3 billion, next-generation, mobile, global satellite network scheduled for completion in 2018. Iridium NEXT will replace the Company's existing global constellation in one of the largest technology upgrades ever completed in space.
It represents the evolution of critical communications infrastructure that governments and organizations worldwide rely upon to drive business, enable connectivity, empower disaster relief efforts and more.
Iridium NEXT will enable and introduce new services like the Company's next-generation communications platform, Iridium CertusSM, and the AireonSM space-based ADS-B aircraft surveillance and flight tracking network. The Iridium NEXT satellites are manufactured by Thales Alenia Space and assembled by its subcontractor, Orbital ATK, at its facility in Gilbert, Arizona.
A live feed of the launch will be available starting twenty minutes prior to launch here.