The expected SpaceX launch of the Spaceflight SSO-A SmallSat Express is being delayed.

According to SpaceX, additional pre-flight instructions need to be completed and a new launch date will be announced by SpaceX when available.
One of the residents of this launch is to be the HawkEye 360's first cluster of small satellites for launch into orbit aboard a SpaceX Falcon 9 as part of Spaceflight's SSO-A: SmallSat Express mission, the largest single rideshare mission from a U.S.-based launch vehicle to date.
When the launch does occur, a live feed of the event will be available at www.spacex.com/webcast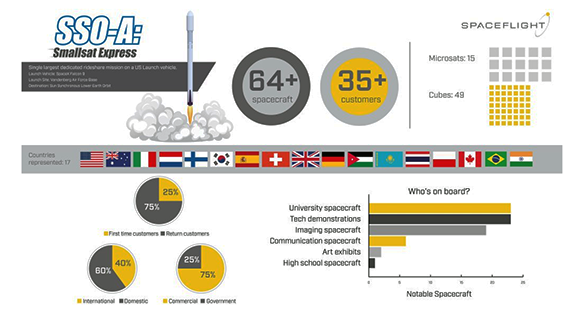 When on orbit, HawkEye 360's satellites will fly in formation in order to identify and geolocate a broad set of radio frequency (RF) signals from emitters such as push-to-talk radios, radar systems, AIS beacons, VSAT terminals and emergency beacons. HawkEye 360 will then use proprietary algorithms to draw out actionable insights for applications such as:
Identify ships misrepresenting their location, which can indicate illicit maritime activities, such as illegal fishing and weapons trafficking

Support search and rescue teams during natural disasters and other emergency situations

Help manage the use of spectrum — a finite resource
HawkEye 360 is first to commercialize RF geospatial analytics using formation flying satellites.