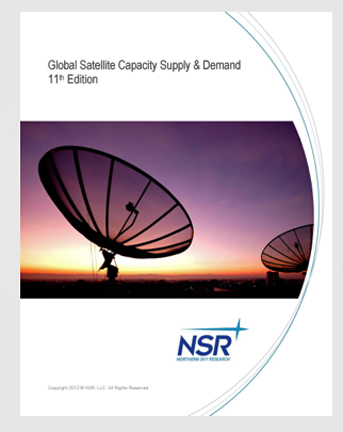 [SatNews] Built on a decade of previous studies, NSR's Global Satellite Capacity Supply and Demand, 11th Edition (GSCSD11), is a comprehensive analysis of the commercial satellite capacity market.
GSCSD11 provides an in-depth study of supply and demand of GEO and MEO satellite bandwidth and an analysis of the most recent developments in the commercial SATCOM industry. The report goes beyond this and digs deep into the numbers to answer some of the most important and strategic questions facing the industry today:
Where does satellite capacity supply stand in relation to demand across 12 regions in the report?
Which applications are driving new demand for satellite capacity and to what extent, in the 12 regions?
Where is growth in revenues coming from, and which applications are seeing the fastest take-up?
This capacity-centric study relies on NSR's extensive databases and more than 15 years of satellite industry research. As a strategic decision-making tool within the satellite industry, this 11th Edition offers unparalleled segmentation with over 8 unique applications, 5 different types of satellite capacity, split over 12 regions to provide a complete global picture but with exceptional tailor-made detail. For those seeking numbers, the report features over one thousand forecasts, pricing and market share estimates complimented by NSR's in-depth qualitative analysis. NSR's Global Satellite Capacity Supply and Demand, 11th Edition is simply the most detailed and comprehensive analysis on GEO and MEO capacity available in the industry. Further, with a full methodology section within the report appendix, the reader is able to fully understand and follow the forecast process.
NSR has continually worked to improve the GSCSD study and make the research within it more relevant and useful for the industry since its inception. NSR led the industry in introducing the assessment and forecasting of commercial services using High Throughput Satellite (HTS) capacity as well as being one of the first to make specific projections for growth in 3D channels within the video distribution and DTH markets. This report continues NSR's path-breaking research by adding the emerging technology of Ultra HD into the Global Satellite Capacity Supply and Demand, 11th Edition. This edition provides significantly more detailed commentary than previous reports on this new form of media consumption. With several hundred Ultra HD channels expected to be broadcast worldwide by the end of the forecast period, this essential analysis provides an unparalleled insight into a lucrative new market segment for satellite operators, DTH platforms, and the industry as a whole.
For additional details regarding this report, please visit http://www.nsr.com/research-reports/broadcast-digital-media/global-satellite-capacity-supply-and-demand/