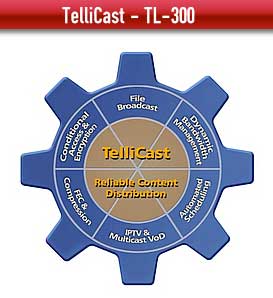 [SatNews] At IBC 2010 in Amsterdam GE Satcom is announcing that they use Newtec's TelliCast IP software to power its maritime service that provides broadband satellite connectivity across land and ocean to shipping customers.
With its
Satlynx Maritime
solution, GE Satcom provides an
innovative triple-play service
which can be easily
multiplexed into any cabin, technical or recreation room.
Newtec's TelliCast and other products can be seen at Stand 1.A49, from September 10-14.
The Satlynx Maritime service automatically switches between cost-effective monthly flat-rate
Ku-band satellites
and usage-based alternatives, according to the lowest cost available. This gives it
independence from any single satellite system, reduces cost of operation and delivers more for those on board ship.
At the beginning of September, after a successful pilot proving Newtec's TelliCast software's easy administration, reliability and scalability, the Satlynx Maritime service was launched commercially.
Maritime operators can now deliver crew welfare services and build a network management system for a whole fleet, enabling maritime operators to provide up-to-date charting and routing information, monitor vessel location and progress, fuel levels, consumption rates and engine performance.
"Newtec's TelliCast datacasting software
powers our Satlynx Maritime service with the most economical transfers, and it is a very important component of our satellite-based platforms
," says
Ronny Svang
,
President and CEO of GE Satcom
.
Check out TelliCast here.
The TelliCast multicast software,
part of Newtec's Tellitec® IP software product family, is a proven solution for secure and reliable delivery
. TelliCast consists of a server software component, with a set of software clients embedded into a variety of receiver devices.
The reliability of file broadcasting is enhanced by TelliCast's partial retransmission capabilities, which ensure no-loss operation by retransmitting any detected missing fragments — an important factor for services on the move.
"TelliCast is a robust and efficient platform, and those qualities are essential in an application like Satlynx Maritime," says
Christian Zanoth
,
Newtec's Business Line Director, Tellitec Software and Solutions
. "
High reliability in transmission, high bandwidth efficiency, sophisticated content protection, powerful automation and reduced channel costs are important to multicast service providers everywhere
, and TelliCast delivers on all counts."
GE Satcom's Maritime solution enhances crew life at sea by delivering a wide choice of quality TV entertainment, as well as providing instant access to Internet applications and an easy-to-use crew calling system. This advanced satellite maritime service is designed for industrial, commercial, military and leisure use.
"Satlynx Maritime is yet another example of the proliferation of innovative services Newtec customers provide around the world," says
Serge Van Herck
,
CEO, Newtec
. "GE Satcom has created a valuable service that expands the possibilities of communication to some of the remotest locations — the world's oceans."