[SatNews] Asia's demand for fast and reliable connected services 'on-the-go' is relentless. As a result of this prevalent trend, which is seen not only in developed regions but also in emerging and rural parts of the world as well.
The need for high capacity broadband and fiber broadband networks is ever-increasing. This is further fueled by a steep increase in consumption of data and entertainment on mobile devices, with mobile data traffic in Asia Pacific expected to exceed the rest of the world by 2017[1].

The management of network infrastructure and innovative business models are an example of some of the focal issues carriers, service and content providers need to consider. Furthermore, enterprises can no longer afford to ignore this major technological shift—the convergence of big data, mobile, social media and cloud computing.

CommunicAsia2014 Summit: Broadband issues unearthed
In recognition of industry's call for the latest market intelligence and technological know-how, the CommunicAsia2014 Summit will return to the Marina Bay Sands from June 17 to 20 to reveal an impressive congregation of global industry experts who are eager to spread their knowledge on the broadband space on the first and third day of the conference.

The Broadband track, which kicks off on June 17 , will delve into the demand for broadband in Asia, followed by viable business models for fiber broadband on the third day, June 19. Panel discussions have also been arranged for both days.

Broadband—where is the demand?
This track encompasses in-depth discussions on regulatory and financing issues in Asia, with an opening keynote by Ross Patterson, Chairman of Akhet Consulting and former NZ Telecommunications Commissioner, titled "Investing in Next Generation Broadband Infrastructure and Policies". William Barney, CEO of Reliance GlobalCom, in a separate keynote address will outline the key trends related to broadband in Asia, and also address its impact on investment and financing.

A POWER PANEL discussion will be held immediately after the opening keynote. Ross Cormack, CEO of Ooredoo Myanmar will be sharing his insights on provisioning broadband networks in Asia, particularly in Myanmar and addressing some of the opportunities and challenges that others can learn from.

The panel discussion will also touch on the identification of broadband opportunities in these various regions, the challenges and opportunities in billing and network provisioning, issue of high-demand for broadband spectrum, and last but not least, how to boost ROI for broadband infrastructure.

Panelists in the POWER PANEL include:
Ross Cormack, CEO of Ooredoo Myanmar
Wing K Lee, CEO of YTL Communications
Khoong Hock Yun, Assistant Chief Officer, Infrastructure and Services Development Group at Infocomm Development Authority of Singapore (IDA)
Mike Wright, Executive Director Networks & Technologies at Telstra
Country case studies

Day 1's track will also uncover the opinions of C-Level experts on the broadband market landscapes of Australia, Vietnam, Malaysia and Myanmar. Topics and speakers include:
Broadband landscape in Malaysia: Mobile, Fixed and Wifi—Suresh Sidhu, Chief Corporate & Operations Officer, Celcom Axiata
Broadband Market and Forecast in Vietnam—Tran Tuan Anh, Head of Policy and Regulation Division, Viet Nam Telecommunications Authority
Growing Demand for SuperFast Mobile Broadband in Australia—Mike Wright, Executive Director Networks & Access Technologies, Telstra
Connecting Rural and Remote Regions in Myanmar—Ross Cormack, CEO, Ooredoo Myanmar
"We're really pleased to be participating at the CommunicAsia2014 Summit. Myanmar represents the last true frontier in telecommunications roll-outs. We hope that detailing the role that Ooredoo Myanmar is playing in delivering tangible change to millions of people across this beautiful country will be of great interest to summit delegates and participants," notes Ross Cormack.

Monetizing fiber broadband for business
The Asia Pacific region is seeing strong subscriber growth in fiber broadband adoption. Operators are expanding their fiber broadband coverage to meet this surge, which has been further augmented by the explosion of online gaming and Internet video streaming. This track, which takes place on the third day of CommunicAsia2014 Summit on 19 June, will see industry specialists from Alcatel-Lucent,Predictable Network Solutions, Cambridge Broadband Networks Limited (CBNL), SpiderCloud Wireless and BT Advise for Communications, congregate to discuss the opportunities and challenges of different, combined networks and how the capacity, end-user experience and the backhaul business can be enhanced.

Operator case studies
The Hong Kong Broadband Network and PT Telekomunikasi will be presenting deployment case studies in Hong Kong and Indonesia respectively. Both operators will also join Ikanos and MyRepublic in a panel discussion titled "How Can Fiber Access Networks Bring Economic Benefits to the Region, Cities and Rural Areas?"

CommunicAsia2014: Reinforcing the broadband focus
The CommunicAsia2014 Summit is held alongside CommunicAsia2014 and EnterpriseIT2014, Asia's industry event of choice for its wide showcase of products, solutions and technologies that are tied to mobility and connectivity.

The event's intrinsic relevance to the broadband value-chain is further reinforced with exhibition's presentation of turnkey solutions that contribute to the development of broadband network infrastructure, including fixed, satellite and wireless broadband. These solutions will be presented by companies who are experts in their fields, such as ADTRAN, ASSIA, Calix, FiberHome, Huawei, Hughes, Inmarsat, Intelsat, Iridium, MEASAT, PHICOMM, RAD Data Communications, Ruckus Wireless and Thuraya among others.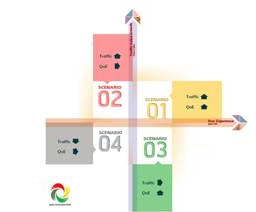 User experience is essential. Due to the mobile broadband (MBB) revenue-traffic scissor effect, the ROI (Return of Investment) is also a great concern of MBB operators and as a consequence, accurate investment is the key to success. Huawei's "Quad Color Investment" methodology will provide the necessary tools, such as the ASP (Accurate Site Planning) for operators to predict the accurate sites that can bring the highest revenue. The "Quad Color Investment" concept is a business-oriented network quality solution. By adopting this breakthrough vision, mobile operators are able to:

Improve network quality and user experience
Precisely invest their mobile network and achieve sustainable growth

Iridium BurstSM & Iridium Go!™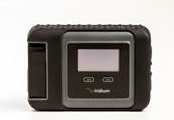 Iridium introduces the first global data broadcast services – Iridium Burstsm which transmits data in powerful bursts to unlimited number of devices anywhere on Earth whether inside buildings, in-vehicle or in aircraft.Iridium Go!™ (pictured) is industry's first portable satellite hotspot that connects to any smartphone or tablet, dramatically extending voice and data coverage for personal devices when they are out of cellular networks.

"As we prepare for the launch of Iridium NEXT in 2015, we are excited to usher in a new chapter of satellite broadband solutions. With smaller form factors, lower price points and higher throughputs than previously possible, Iridium and its partners are at the forefront of innovation in satellite broadband communications," says Bryan Hartin, Executive Vice President, sales and marketing, Iridium.
"CommunicAsia is an important venue for us because it presents an opportunity to deliver our vision to the broader Asia-Pac market. We are excited to share Iridium's latest products and innovation, including Iridium GO! which extends the reach of smartphones and tablets no matter where you are on the planet, and Iridium Burst—the world's first one-to-many global data broadcast service."
Myanmar Connect
With a mobile market that is touted to sport 6 million smartphones by 2017, Myanmar's telecommunications is getting increasingly attractive in the eyes of foreign players. Specially designed to offer an exclusive opportunity to interact with ICT enterprises from Myanmar,Myanmar Connect will allow attendees to get to know local stalwarts such as RedLink Communications, Myanmar's ICT flagship company. Vice Chairman and Co-Founder of RedLink, Mr. Thien Than Toe, will be present to share the company's latest forays in Myanmar and explore opportunities for future collaboration with participants.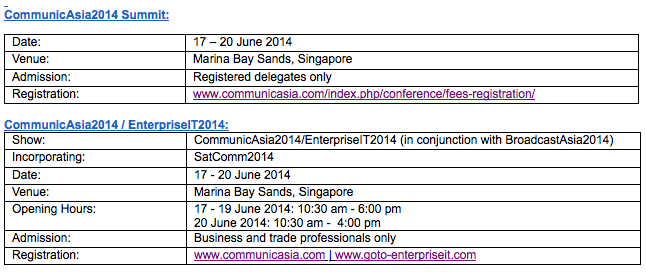 [1] http://www.analysysmason.com/Research/Content/Reports/wireless-traffic-APAC-Dec2013-RDRP0/