[SatNews] Airbus Defence and Space is preparing the launch of ASTRA 5B, which is due to be put into geostationary orbit (36,000 kilometers) aboard an Ariane 5 launcher on March 21st—ASTRA 5B is the first of six telecommunications satellites that will be launched in 2014—Airbus Defence and Space is also the industrial prime contractor for Ariane 5.
Astra 5B will be deployed at the orbital location of 31.5 degrees East. It will provide extended transponder capacity in Ku- and Ka-bands with geographical reach over Eastern European and neighboring markets for DTH (Direct to Home) direct-to-cable and feeding to digital terrestrial television networks. It will also carry a hosted L-band payload for the European Commission's European Geostationary Navigation Overlay Service (EGNOS). The satellite will have a launch mass of six tons, a wingspan of 40m once its solar arrays are deployed in orbit, and a spacecraft power of 13kW until the end of its 15-year design lifetime. Launch and Early Orbit Phase (LEOP) operations will be conducted from the Airbus Defence and Space control centre in Toulouse.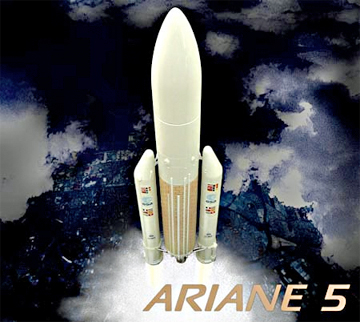 ASTRA 5B will be the eighth Airbus Defence and Space built Eurostar E3000 satellite in the SES fleet to be placed in orbit, following the recent successful launches of ASTRA 2F in September 2012, SES-6 in June 2013, and ASTRA 2E in September 2013. One more Eurostar E3000 satellite for SES (ASTRA 2G) is currently in the final integration phase and tests at Airbus Defence and Space facilities, with work having also begun on the design of the SES-10, the newest member the SES fleet, ordered from Airbus Defence and Space in February 2013. The Eurostar E3000 platform is celebrating this month 10 years of proven success and reliability in orbit.

As the prime contractor for the Ariane launchers, the company has overseen the industrial network of the Ariane 5 program since 2003, which comprises more than 550 companies (over 20 percent of them Small and Middle-sized enterprises - SME's) in 12 European countries. Airbus Defence and Space also manages the entire industry supply chain, from the manufacture of equipment and stages to the complete integration of the launcher in French Guiana, in line with the customer's specifications. Thanks to the expertise the company has acquired and the investments it has made in this near ten-year period, Ariane 5 has become the most reliable commercial launcher on the global market and has increased its geostationary orbit payload capacity by nearly one tonne. A flagship of European know-how, the Ariane 5 launcher has been specifically designed to carry heavy payloads into space.