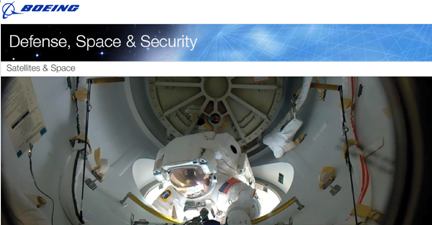 [SatNews] Boeing [NYSE:BA] will investigate hosting a scientific payload on a commercial satellite under a new six-month contract awarded by the Air Force's Space and Missiles Systems Center (SMC).
The "TEMPO"—or Tropospheric Emissions: Monitoring of Pollution payload—will measure atmospheric pollution for most of North America and would launch and orbit as a hosted payload on a future commercial satellite.
"Boeing has been hosting payloads on commercial satellites since the 1990s, and our selection for this study will enable us to progress beyond communications payloads to scientific payloads as well," said Dan Hart, vice president of Boeing Government Space Systems. "Hosted payloads provide an affordable way for governments to gain speedy access to space without having to procure an entire satellite."
Boeing is one of three companies selected for the TEMPO study contract, awarded under the larger Air Force Hosted Payload Solutions (HoPS) indefinite delivery, indefinite quantity (IDIQ) contract awarded on July 10. Fourteen companies in all are participating in the HoPS program. The request for proposal to host the payload is expected in late 2015.
For further information, access the Boeing infosite at http://www.boeing.com/boeing/bds/index.page?