[Satnews] After the success last year, the second edition of the Satellites Masters Conference will showcase a unique portfolio of innovative applications based on satellite data and infrastructures.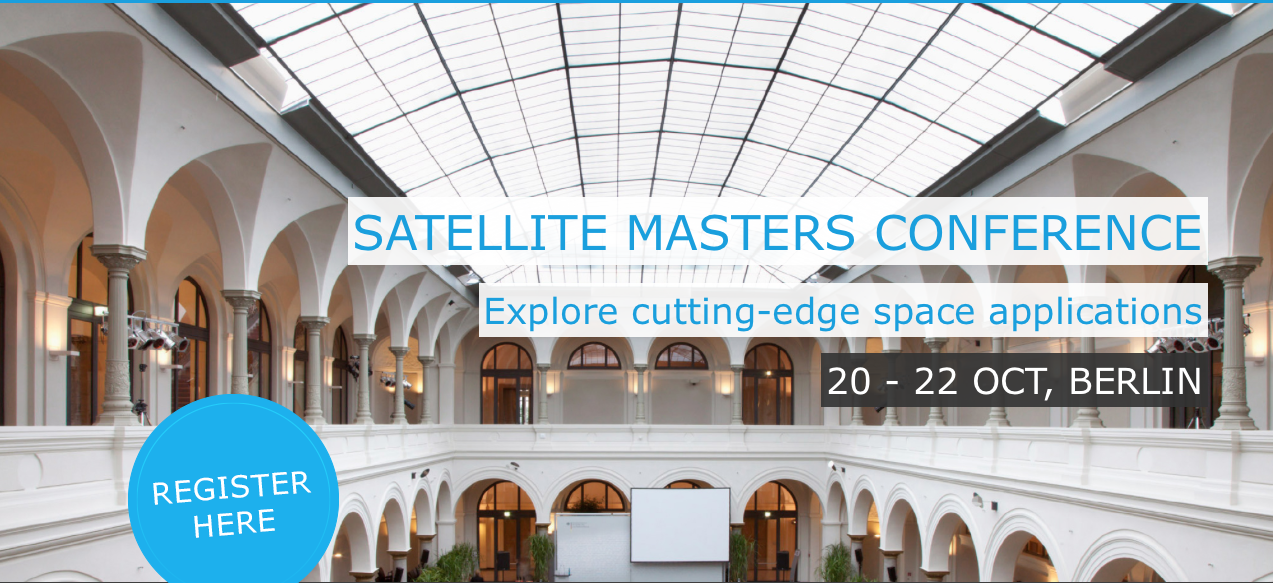 The Satellite Masters Conference is more than a networking event: it is a unique marketplace for sharing ideas on space-based innovation and connecting with the world's leading network for downstream satellite business. The conference will feature a blend of sessions, solution soundbites, and roundtable discussions centered around leveraging satellite-derived data and other space solutions for business and society in the following fields:
tackling global change with sustainable solutions
managing disasters and security with data from space
big data from space for business in the cloud
small satellites with a big impact on the new space economy
satellite services for European infrastructures
smart cities: sustainable living based on data from space.
The conference is geared toward all those looking to benefit from the emerging satellite applications market, including start-ups, SMEs, researchers, investors, institutional stakeholders, and industry entities.

The annual Awards Ceremony of Europe's major innovation competitions for space applications, the Copernicus Masters and the European Satellite Navigation Competition, will cap off the event. The most brilliant awardees will also present their business cases during the conference.

The Satellite Masters Conference and the Awards Ceremony will kick off with a high-level roundtable on the subject 'Space 4 Digital Business', opened by Dorothee Bär, State Secretary of the German Federal Ministry of Transport and Digital Infrastructure (BMVI).
There is an opportunity to join the discussion about the impact of space on the digital economy of Matthias Petschke, Director of European Satellite Navigation Programmes, European Commission (EC); Philippe Brunet, Director I - Space Policy, Copernicus and Defence, European Commission (EC); Carlo des Dorides, Executive Director of the European GNSS Agency (GSA); Prof Dr Johann-Dietrich Wörner, Director General of the European Space Agency (ESA); Dr Hubert Reile, Program Director Space Research and Technology at the German Aerospace Center (DLR); and Thorsten Dirks , President of Bitkom.

On October 22, the European GNSS R&D Day will showcase success stories on research applications and instruments designed to support entrepreneurs.

The conference is organized by Anwendungszentrum GmbH Oberpfaffenhofen (AZO) in cooperation with the European GNSS Agency and will be hosted by the German Federal Ministry of Transport and Digital Infrastructure (BMVI) in Berlin from October 20 - 22, 2015.

For further information and registration (free of charge).