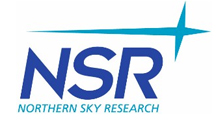 NSR's Maritime Satcom Markets, 4th Edition continues as a dedicated focus on the maritime satellite market—from the opportunity for M2M/IoT to the latest Non-GEO HTS capacity slated to launch.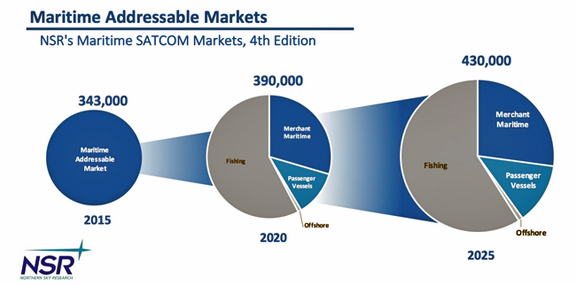 This report provides readers with the most complete overview on addressable maritime markets, vendor market share, pricing, revenues, and capacity demand for all commercial maritime vertical segments. With cross-comparisons and identification of key maritime vertical markets, Maritime Satcom Markets, 4th Edition answers key questions facing the industry. Providing a complete picture of the maritime market, readers can navigate through the trends, drivers, and restraints shaping the maritime industry - from end-user trends to the latest SATCOM developments. Using quantitative and qualitative factors, Maritime Satcom Markets, 4th Edition continues NSR's segment-leading analysis.
This report incorporates years of research and analysis of trends with new developments in this evolving market and addresses key questions about maritime SATCOM services, such as:
How much capacity will vessels need for doing business? How much will this capacity cost?
How will value-added services affect the way the maritime markets do business?
Where is the maritime "big data" demand?
What is the demand from river cruises and in-land waterways? Are they supplied by the terrestrial market? Are there opportunities for suppliers?
How will GEO-HTS affect the market share? How will Non-GEO-HTS developments affect the market?
As focus grows into the maritime market, vessel growth in the passenger segment remains strong, with leisure dominating the addressable market. Smaller and more attractive terminal form factors, increased value-added services, and "at-home" connectivity expectations are all driving SATCOM service demand and adoption in the passenger market.
New to this report are:
Coverage of river cruises and in-land waterways markets
New vessel-based analysis by capacity and revenue
Analysis of emerging, value-added services
The merchant market will remain the largest market potential for satellite services. Through bridge digitization and improving operations to connected containers and supply-chain optimization efforts, there is a 'sweet spot' for nearly all satellite offerings. Although fishing has more vessels, and offshore has more per-vessel capacity demand, the merchant segment will remain the engine driving growth for maritime satellite communications services.
NSR's Maritime Satcom Markets, 4th Edition report builds on NSR's series of Mobile Satellite Services reports. This maritime focused report explores the important trends, drivers, and restraints moving and shaping the maritime SATCOM markets. Leveraging NSR's years of research into this vertical, the report provides a completely fresh and up-to-date assessment of the market, combined with key data-points on In-service Units, Revenues, and Capacity evolutions for the next ten years on a region-by-region basis.
The report offers a holistic view of the maritime SATCOM industry to provide a better understanding of the trends, warning signs, and developments in the maritime market. Built alongside NSR's multi-vertical approach, the report dives-deep into the maritime satellite ecosystem and is able to leverage extensive research in adjacent verticals such as aeronautical. With more aero players getting into the maritime game, data is collected by region, by capacity, price, vendor market share, by revenue and more.
NSR consulted with satellite operators, service providers, and end-users to better present a valuable tool for strategizing the years to come and is a guide to navigating the ever-changing waters of this industry.