Speedcast and SES have signed an agreement to provide several hundreds of Mbps of connectivity into Peru — this is the first agreement between the companies in Latin America to provide MEO capacity with high throughput capabilities and low latency and the agreement marks the fourth MEO national partnership between Speedcast and SES Networks.

The agreement enables Speedcast to provide network services to mobile network operators (MNOs) and enterprise customers in areas of Peru where high performance internet is in high demand and short supply, enabling a host of latency-sensitive and bandwidth-hungry applications.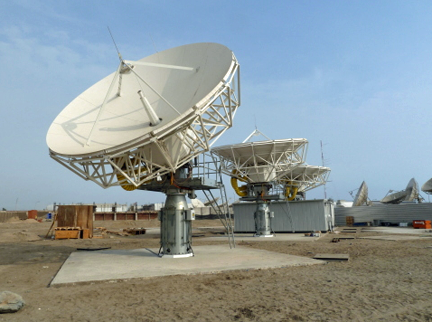 By using SES's O3b constellation, Speedcast will deliver internet performance, customer support, and integration with their customers' networks on par with terrestrial fiber in the region. Speedcast is able to supply this 24/7/365 day support through its network of more than 250 field engineers.
Omar Trujillo, VP of Sales for Latin America at SES Networks, remarked that the company's unique, low-latency, high throughput connectivity will help Speedcast achieve their goal of providing fiber-like connectivity and a premium experience to customers.
Pierre-Jean Beylier, the CEO at Speedcast,noted that the added support from SES Networks' services will allow the company to provide enterprises with the critical high-demand communications capabilities necessary to operate with speed and efficiency in today's technology-driven market. Speedcast is building the fiber, the radio links, and WiFi to extend the signal to the end users.
Additionally, Speedcast has released their SIGMA Gateway Xtreme, a new network device capable of managing Speedcast's global Ku VSAT network, Inmarsat's Fleet Xpress network and 4G/LTE services. SIGMA Gateway Xtreme delivers the ultimate in reliability and redundancy, bringing the performance of Fleet Xpress to a new and unmatched level.
SIGMA Gateway Xtreme is designed to withstand harsh Maritime environments, delivering the high availability and performance of Fleet Xpress in a secure and integrated environment. Comprised of fully redundant and duplicated hardware, including solid-state hard drives, multiple fans and remote power management, SIGMA Gateway Xtreme is backed up by multiple automated systems in order to mitigate both hardware and software failures.

The SIGMA Gateway Xtreme cybersecurity protection capabilities are powered by Fortinet and provide the safety of next-generation cybersecurity to the Maritime world via an optional virtualized device onboard. The fully managed service includes content filtering, a Unified Threat Management (UTM) platform and intrusion detection with full reporting capabilities. Customers are able to request unlimited changes to how the device manages their on-board network. By reducing the risk of a cybersecurity incident impacting vessel operations, SIGMA Gateway Xtreme delivers peace of mind to a fleet.

SIGMA Gateway Xtreme provides a secured virtualized environment where a customer or a third party's virtual machines (VM) can be hosted. SIGMA Gateway Xtreme automatically hosts its VM across both servers, and presents them as a single instance, making it ideal for critical or high-availability requirements.

According to Tim Bailey, EVP, Products, Marketing, & Business Development, Speedcast, the launch of SIGMA Gateway earlier in the year was a milestone in bringing secure virtualized server environments to the Maritime market.SIGMA Gateway Xtreme demonstrates the company's commitment to innovation and to delivering market-leading products that bring value to customers.