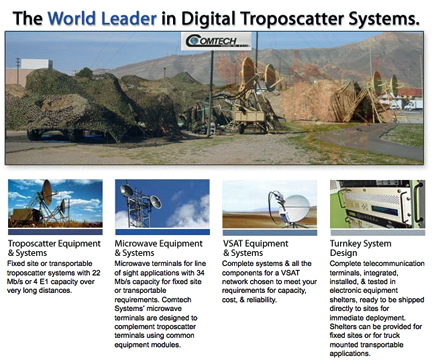 [SatNews] Comtech Telecommunications Corp. (Nasdaq:CMTL) has announced that its Orlando, Florida-based subsidiary, Comtech Systems, Inc., has received a $4.4 million contract from the Brazilian Military for an upgrade to its satellite network.
In commenting on this important award, Fred Kornberg, President and Chief Executive Officer of Comtech Telecommunications Corp., said, "Our long-standing leadership positions in all facets of communications has firmly established Comtech as the choice for advanced satellite communication solutions. We look forward to continuing to work with the Brazilian Military on this and future opportunities."
Comtech Systems specializes in system design, integration, supply and commissioning of turnkey communication systems including over-the-horizon microwave, line-of-sight microwave and satellite.
Comtech Systems infosite is located at: http://www.comtechsystems.com/