[SatNews] One day left...
a reminder to register for Hosted Payload Alliance (HPA) Euroconsult Webinar "Unleashing the Potential of Hosted Payloads". Tomorrow (Tuesday, October 9)will close registration at 11:00 a.m. EDT.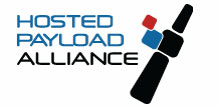 This is a reminder to register for the complimentary upcoming webinar hosted by the Hosted Payload Alliance and Euroconsult on Tuesday, October 9 at 11am EDT. The webinar will feature a live panel discussion with leading participants from government and industry. In addition, a live tweet session will be hosted by Euroconsult during the webinar using #HPWeb2012.
To register, please click on this link.
Webinar participants include Don Brown, Vice President, Business Development, Intelsat General; Dave Anhalt, Vice President, U.S. Government Services, Space Systems/Loral; Don Thoma, Chairman of the Hosted Payload Alliance, Executive Vice President at Iridium, President & CEO of Aireon LLC; and Colonel Scott W. Beidleman, United States Air Force, Hosted Payload Office.
Hosted Payload Alliance Charter
Justification The Hosted Payload Alliance (HPA) is a satellite industry alliance formed to increase awareness of the benefits of hosted government payloads on commercial satellites. The U.S. National Space Policy published in 2010 calls for an increasing role for commercial space to meet government requirements. It also explicitly directs the use of non-traditional options for the acquisition of space goods and services, and cites hosted payloads as one of these non-traditional options. The policy notes that public-private partnerships with the commercial space industry can offer timely, cost-effective options to fill government requirements.
Goals

Serve as a bridge between government and private industry to foster open communication between potential users and providers of hosted payload capabilities.
Build awareness of the benefits to be realized from hosted payloads on commercial satellites.
Provide a forum for discussions, ranging from policy to specific missions, related to acquisition and operation of hosted payloads.
Act as a source of subject-matter expertise to educate stakeholders in industry and government.
Membership Criteria
Membership in HPA is open to satellite operators, satellite manufacturers, system integrators and other interested parties.
For more information, visit the Hosted Payload Alliance website, or contact Nathan Zastrow nzastrow@hostedpayloadalliance.org.