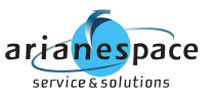 Known as Antonianna, Lisa, Kimberley and Tijmen, the latest Galileo spacecraft for Europe's satellite navigation constellation have now been integrated with their Ariane 5 launcher in French Guiana for a November 17th Arianespace mission.
The four satellites—named for winners of a European children's drawing contest—were installed this week on Ariane 5 in the Spaceport's Final Assembly Building, in preparation for Arianespace's 10th mission serving the Galileo program. Designated Flight VA233 in Arianespace's numbering system, this is the first of those missions that is using a heavy-lift Ariane 5 ES version, with the four satellites configured on a payload dispenser that will release them in pairs into circular orbit.
Arianespace has previously launched 14 Full Operational Capability (FOC) and In-Orbit Validation (IOV) satellites for Galileo from French Guiana, with seven missions exploiting the firm's medium-lift Soyuz vehicle, along with two other Soyuz flights from the Baikonur Cosmodrome that deployed the GIOVE-A and GIOVE-B experimental satellites.
Galileo is a European initiative to develop a new global satellite navigation system. Under civilian control, it will offer a guaranteed, high-precision positioning service and will end Europe's dependence on the American GPS system. The Galileo constellation will comprise 24 operational satellites, along with spares, with 14 already orbited by Arianespace.
Galileo is funded by the European Union and features innovative technologies developed in Europe for the benefit of all citizens. The European Commission holds overall responsibility for Galileo's management and implementation, with the European Space Agency assigned design and development of the new generation of systems and infrastructure.
Each of the spacecraft passengers for Flight VA233 weighs between 715 and 717 kg and were built by OHB System in Germany, with UK-based Surrey Satellite Technology supplying the navigation payloads.
The November 17 Ariane 5 mission will be Arianespace's sixth heavy-lift flight of 2016 and ninth overall this year with its complete launcher family, which also includes the Soyuz and lightweight Vega vehicles.