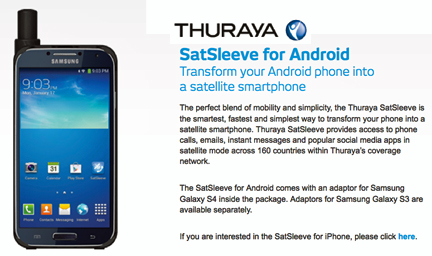 [SatNews] Thuraya Telecommunications Company has launched the latest edition of the Thuraya SatSleeve designed for Android-based smartphones.
Compatible with the Samsung Galaxy S3 and S4, the new game-changing product allows Samsung Galaxy users to turn their own smartphone into a satellite phone to make phone calls, send SMS messages and access apps via Thuraya's satellite network when they are unable to connect to a terrestrial GSM network.
The Thuraya SatSleeve eliminates the need for carrying a separate satellite phone. Users only need to dock their Android smartphone into the Thuraya SatSleeve and operate it normally via the Thuraya Satellite network. Its built-in SOS button allows users to call one predefined number even without their smartphone attached. Additionally, users can send SMS messages, send and receive email, and access popular social media and instant messaging apps such as Facebook, LinkedIn, Twitter and WhatsApp, among others.
Thuraya SatSleeve enables users to enjoy ubiquitous coverage in the most remote environments that are not served or that are under-served by terrestrial GSM networks. The device also serves as a security backup for users who are operating in remote locations and in areas where natural or man-made disasters can render terrestrial communications unavailable. SatSleeve customers include corporate users from all industries, government personnel, explorers, mountaineers and other outdoor enthusiasts. The SatSleeve can be used on the Thuraya network either with a Thuraya SIM card or with a standard GSM SIM card available from one of Thuraya's GSM roaming partners. This makes the Thuraya SatSleeve highly flexible with the ability to be suited to the users' individual needs.
The Thuraya SatSleeve for Android is available from all Thuraya Service Partners from January 15, 2014.
For further details, access this direct infopage link.