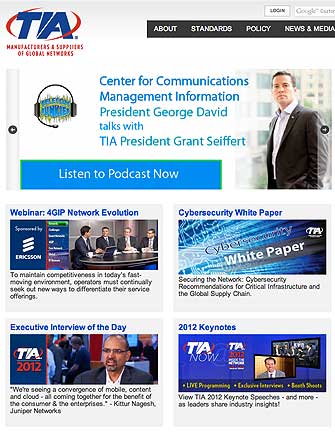 [SatNews] While the association was pleased with some of the reports from the federal agency, there are very real concerns that remain...
The Telecommunications Industry Association (TIA), representing the manufacturers and suppliers of high-tech communications networks, filed comments on the Federal Communications Commission's consideration of Deployable Aerial Communications Architecture (DACA) technology.
The Telecommunications Industry Association (TIA) represents manufacturers and suppliers of global communications networks through standards development, policy and advocacy, business opportunities, market intelligence, and events and networking. TIA enhances the business environment for broadband, mobile wireless, information technology, networks, cable, satellite and unified communications. Members' products and services empower communications in every industry and market, including healthcare, education, security, public safety, transportation, government, the military, the environment, and entertainment.
The TIA applauds the FCC's consideration of DACA technology in improving its public safety goals but recommends the Commission carefully consider limiting DACA's use to existing current public safety communication frequencies in order to avoid interference with commercial use and repairs.
In general, control of DACA platforms should be in the hands of local agencies that are in the best position to make potentially lifesaving decisions.