[SatBroadcasting(tm)] All systems are nominal aboard the BSAT-3b broadcasting satellite, designed and built by Lockheed Martin (NYSE: LMT) for Broadcasting Satellite System Corporation (B-SAT) of Japan.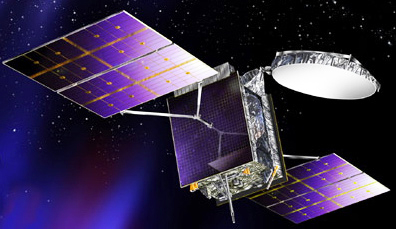 Artistic rendition of BSAT-3b satellite
The satellite was launched Oct. 28 from
Kourou
, French Guiana, at 5:51 p.m. EDT aboard an
Ariane 5-ECA
launch vehicle provided by Arianespace of Evry, France. Initial contact with the satellite was confirmed shortly afterward at 6:52 p.m. EDT from
Lockheed Martin
's satellite tracking station in
Uralla
, Australia. Ground controllers continue to command the spacecraft, the propulsion system has been pressurized and all
liquid apogee engine
(
LAE
) burns have been successfully concluded. Reflector and solar array deployments are completed and the in-orbit testing plan remains on schedule. Spacecraft maneuvers over the next week will place
BSAT-3b
in its proper orbital location at 110 degrees East longitude. Lockheed Martin expects to hand over BSAT-3b to B-SAT by the end of 2010 following bus and payload testing.
BSAT-3b features 12 130 W Ku-band channels, eight operating simultaneously. With a design life of 15 years, BSAT-3b is based on the
A2100A
platform manufactured by
Lockheed Martin Commercial Space Systems
(LMCSS), Newtown, Pa. The satellite is comprised entirely of equipment based on proven A2100 designs and flight heritage, enhancing reliability on orbit. Lockheed Martin successfully built and launched BSAT-3a for B-SAT in August 2007 and is currently constructing BSAT-3c/JCSAT-110R, which is scheduled for launch in the second quarter of 2011.