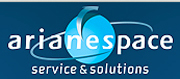 Preparations continue for Intelsat 33e and Intelsat 36 and their launch to orbit by Arianespace aboard an Ariane 5 on August 4th.
These two satellites are advancing through their payload preparation phases during parallel activity at the Spaceport in French Guiana. Designated Flight VA232 in Arianespace's numbering system, this will be the company's sixth launch to be performed in 2016 as well as the fourth this year using a heavy-lift Ariane 5. Arianespace's full launcher family is rounded out by the medium-weight Soyuz and light-lift Vega.
Intelsat 33e—the first of the two payloads to arrive in French Guiana—has completed initial checkout and, during preparations that have been successfully completed, the satellite was installed on the launch vehicle's SYLDA dual-passenger dispenser system. The latter step was performed in the Spaceport's Final Assembly Building and positions Intelsat 33e for the upper slot of Ariane 5's payload arrangement.
As the second spacecraft of the nexgen Intelsat EpicNG series, Intelsat 33e—which was produced by Boeing—integrates one of the most advanced commercially-available digital payloads in the world. The first Intelsat EpicNG satellite, Intelsat 29e, was successfully delivered to geostationary transfer orbit on an Ariane 5 mission performed in January.
Flight VA232's Intelsat 36 co-passenger also marked an important pre-launch milestone with the loading of the onboard propellant. This event occurred in the S5A hall of the Spaceport's S5 payload preparation facility. Following the satellite's upcoming transfer to the Final Assembly Building, Intelsat 36 will be integrated as the August 24 mission's lower payload. Built by SSL (Space Systems Loral), Intelsat 36 will enhance Intelsat's premier DTH neighborhood in Africa after reaching the final orbital position.