All ready to go but the sensor said no.
Today's Falcon 9 rocket launch from Launch Complex 40 on Cape Canaveral Air Force Station was targeted for 4:25 p.m. until SpaceX called a stand down to replace a second stage sensor. The next projected date for launch is Wednesday, January 31.
This mission is SpaceX's second of potentially more than 20 this year, and the second in less than a week for SES, which launched its SES-14 satellite on an Ariane 5 rocket last Thursday.
Las March SES was the first company to agree to a launch on a used Falcon 9 rocket that SpaceX refers to as "flight proven" with the launch of SES-10.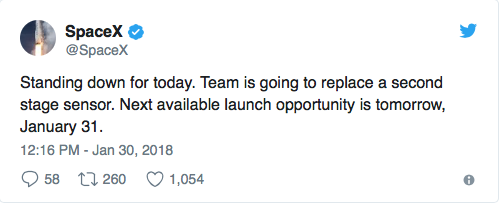 The GovSat-1 satellites for SES built by Orbital ATK is described as "a new concept in secure communications for governments and institutions." The satellite is a public-private partnership between the government of Luxembourg and Luxembourg-headquartered SES, one of the world's largest operators of commercial satellites.
Previously SpaceX has landed boosters on a ship in the ocean, however it will will not try to recover this one as it's an older model booster only designed to fly twice. An upgraded version expected to start flying in the first quarter of the year, known as Block 5, is said to be capable of 10 or more flights with refurbishment. Last year there were five Falcon rockets that were re-used, a goal that CEO Elon Musk was aiming for, as being able to develop reusable rockets can make spaceflight, whether on trips to the moon or Mars, less expensive.