The two companies, ENGIE Ineo as prime contractor and Airbus Defence and Space as co-contractor, have been awarded an eight-year contract, the DESCARTES STCA contract will deliver a high-availability communications network to control the air operations of the French Ministry of Defence. The contract, signed with the French defense procurement agency (DGA), is part of the DESCARTES program.
The DESCARTES program is designed to upgrade all the infrastructure networks of the French Ministry of Defence to meet increased bandwidth, service quality as well as cyber security requirements.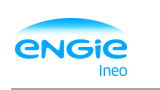 DESCARTES STCA will provide forces involved in air operations with an Internet-Protocol (IP) based, secure, cross-site telephone service to allow military missions to be carried out consistently with civil air traffic control and NATO networks, and to contribute to the implementation of the single European sky. The contract covers the design, deployment and support of the operational telephone system as well as the security system meeting air traffic control's very high availability and resilience requirements. It will be rolled out on around 60 sites in mainland France.
"As a supplier of terrestrial or satellite networks for the most modern armed forces worldwide, including those of France, the United Kingdom, Germany, Canada, the United States and NATO, Airbus is proud to be participating in the DESCARTES program," said Eric Souleres, Head of French business for the Communications, Intelligence & Security business line, at Airbus Defence and Space.
"ENGIE Ineo has proven expertise in the field of complex systems with high operational requirements. Our teams address challenges in defence and security by making information and communications systems the top priority of our strategic focus," said Emmanuel Barthoux, Deputy Head of Ineo Defence.
The program includes a "general use" aspect designed to meet the needs of inter-ministerial initiatives in this area. It also includes a "resilient", highly secure aspect, able to operate even in the event of a serious crisis, in particular for the benefit of nuclear deterrence, joint services territorial organisationcommand, continuous air security and air traffic control communications.
http://www.airbusdefenceandspace.com
http://www.engie-ineo.fr/en/who-are-we