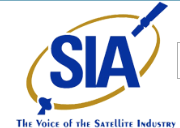 [Satnews] The Satellite Industry Association (SIA) today announced the presentation of its 2016 Leadership In Government Award at SIA's 19th Annual Satellite Leadership Dinner held last week in Washington, DC. SIA President Tom Stroup presented the Award to Lieutenant General John W. "Jay" Raymond, Deputy Chief of Staff for Operations, Headquarters, U.S. Air Force, Washington, D.C.
"SIA is pleased to recognize Lt. Gen. Raymond for his advocacy, leadership and understanding of our industry's capabilities both now as Deputy Chief of Staff for Operations, Headquarters U.S. Air Force here in Washington and during his previous assignment as Joint Functional Component Commander Space and 14th Air Force Commander," said Tom Stroup, President of SIA. "His leadership was instrumental to improved coordination, communication, safety and security for the DoD and the commercial space community, notably within the Commercial Integration Cell of the JSpOC. The DoD continues to leverage the innovative strengths of the commercial satellite industry to provide its personnel both domestically and abroad with advanced and ubiquitous voice and data solutions. By collaborating with the commercial satellite industry, the DOD can utilize its services plus those offered by MILSATCOM, maximizing the satellite tools available for the U.S. military."
"I am honored to receive this prestigious award, and greatly appreciate the strong partnership we enjoy with the commercial industry," said Lt. Gen. Raymond when accepting the award. "We are an integrated multi-domain Air Force, and the commercial capabilities [the industry] provides are critical to our success."
SIA's Satellite Leadership in Government Award is traditionally presented to a current or former government official or member of Congress who has demonstrated long-term leadership and dedication to public service on issues affecting the satellite industry and has served as an example to others in government.
The Satellite Leadership in Government Award has been awarded to thirteen previous recipients, including Karl Nebbia for his work with the NTIA (2015), Richard Beaird of the State Department (2013), Brian Nilsson of the White House National Security Staff (2012), Rural Utilities Service Administrator Jonathan Adelstein (2011); Major General Ellen Pawlikowski (2010); General James Cartwright and Mr. Richard Russell, Ambassador to the 2007 World Radiocommunication Conference (2008); Representative Ellen Tauscher and Maj. Gen. James B. Armor Jr. (2007); Senator Ted Stevens (2006); and Admiral James O. Ellis Jr. and Tom Tycz, Federal Communications Commission (2005).