[SatNews] SSPI has been promoting a Better World campaign. Though the campaign has been ongoing, the Mission officially launches at the 2015 SSPI Gala Benefit Dinner to be held in Washington DC in March.
The host will raffle off a specially-branded magnum of Cabernet Sauvignon, 2008, provided by Silvano Payne, CEO of SatNews, and owner of Siesta Estate Wines, Sonoma, California. The magnum is branded with the "Mission Patch" for the Better World campaign, and every ticketed attendee will have a chance to win. However, all of the dinner ticket and table purchasers, and all dinner guests should have their dinner tickets entered by March 1, and the winner will be selected on March 2, 2015. The winner must be able to attend the Gala to take pictures with Silvano Payne, and with Robert Bell, Executive Director of SSPI.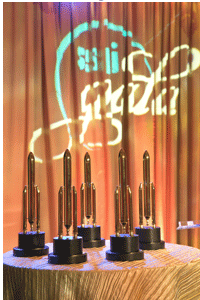 SSPI to Induct Famed Company Founders and Technology Pioneers into the Satellite Hall of Fame

SSPI announced four new inductees for the 2015 Satellite Hall of Fame, to be honored on March 17 during SSPI's annual Gala Benefit Dinner. They will join more than 40 Hall of Fame members including Dr. Arthur C. Clarke, Dr. Harold Rosen, Olof Lundberg, Eddy Hartenstein, Frederic d'Allest, Sidney Topol, Takayushi Yoshida, Mary Ann Elliott, Mary Frost, Peter Jackson, Dick Tauber, Susan Irwin and Robert Berry.

"We are privileged to honor a set of company founders and technology leaders who have transformed the business of launch, broadband Internet, pay TV and the efficiency and availability of satellite services," said SSPI executive director Robert Bell. "At the same time, they have led the building of companies that are name brands in the business and whose best days are still ahead of them."
Making a Legacy at Age 35
In 2007, SSPI presented one of its Promise Awards to a remarkable young woman named Hayley McGuire. She worked for Boeing Satellite Systems, and the president of that division nominated her in part because she had served as his chief of staff. He spent most of his days on the road, he explained, and that meant Hayley managed much of the division's day-to-day business. Not bad for an employee under-35 years old. She went on to project-manage major proposals and programs for the division.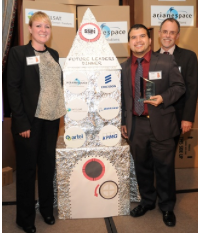 Seven years later SSPI received a nomination for a Boeing employee, Adriel Carreno. He is a mechanical and systems and engineer, and is also on his way to earning an MBA. He attends class and serves as Missions and Programs Business Development Lead for Civil Programs. His customers include NASA, NOAA, JPL and the U.S. Air Force. As one example, the company has entrusted him with management of studies and hosting opportunities for the Air Force's Hosted Payload Solutions contract, which places government payloads on commercial spacecraft.

The SSPI 2015 Gala Benefit Dinner takes place on March 17 in Washington, DC, and marks the formal launch of SSPI's campaign, "How Satellites Make a Better World", to change the global conversation about satellite. Purchasing the ticket will support SSPI mission programs, including our "Better World" campaign to tell the industry how it can help to drive the change that is needed. Limited space remains, so reserve your table now! For those unable to stay the full evening, reception only tickets are also available.