Constellations, the satellite and space podcast from Kratos, celebrated its 50th biweekly satellite and space podcast with an interview of Stewart Sanders, EVP, Technology and O3b mPOWER Program Manager at SES Networks.
In this podcast, Stewart discusses:
Phased array development and beamforming
Intelligent software and how it can be part of C2
The power of a spacecraft's system dynamic resource manager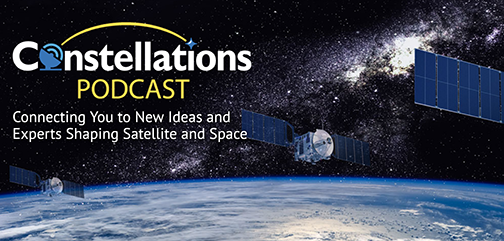 Constellations brings together key space industry leaders and opinion influencers to share their thoughts on new space, defense policy, space exploration and travel… and so much more.
A sampling of recent guests illustrates the breadth of topics discussed on Constellations:
Jeff Hill, Conference Chair, SATELLITE 2019, People, Geography & Business Apps: The Satellite Industry is Changing
Chad Anderson, CEO, Space Angels, Explosion in VC Funding, The Year of Commercial Space Travel and EO for All
Justin Oliveira, CEO, Analytical Space Spectral Fingerprints, Laser Communications and the Space Economy
Michal Anne Rogondino, CEO and Founder, Rocket Communications User Experience Design, Space System Standards and Enterprise Ground Service
Bill Marks, Chief Strategy Officer and Executive Vice President, Kymeta, Always-On Connectivity, Flat Panel Antennas and End-to-End Mobile Communications
Constellations are proud to have received positive feedback from our many guests including this from Jeff Hill, who said he had enjoyed listening to Constellations for the past year. Each episode provides thoughtful insight from the brilliant and innovative leaders in our community, speaking on topics that are timely and important. He was delighted to be featured as a guest and grateful for the opportunity to talk about the changing demographics of the industry. Kratos has done a fantastic job with the podcast, and I look forward to many future episodes to come.
Chad Anderson thanked to Kratos for putting together an excellent podcast — he enjoyed the conversation about investment and startup activity in space and he is looking forward to future episodes that interview these innovative new industry leaders.
Michal Anne Rogondino added congratulations to the Constellations team on their 50th episode — this podcast truly captures the multifaceted space industry.
Produced by Kratos, Constellations provides a forum for people in the space industry, and those intrigued by it, to learn from experts as they share their insights, experiences, expectations and hopes for the future. Constellations is always looking for topics that are of interest to the show's listeners. If you have a space-related topic that you believe would make a great podcast — or would like to be a guest on Constellations — please email them at Podcast@KratosComms.com