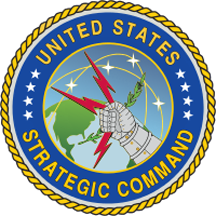 U.S. Strategic Command forces are prepared to deter strategic attack and employ forces, as directed, to guarantee the security of the nation and its allies, the STRATCOM commander told the Senate Armed Services Committee.
Air Force Gen. John E. Hyten, commander of U.S. Strategic Command, testified before the Senate Armed Services Committee in Washington, on March 20, 2018. "The most important message I want to deliver today is that the forces under my command are fully ready to deter our adversaries and respond decisively, should deterrence ever fail," the General said. "We are ready for all threats."
Ever-Changing, Global Warfighting Command
STRATCOM personnel are positioned across the world, and are responsible for multiple domains, including air, land, sea and space. The command sets conditions across the globe as the ultimate guarantor of national and allied security, Hyten said.
STRATCOM's responsibilities include strategic deterrence, nuclear operations, space operations, joint electromagnetic spectrum operations, global strike missile defense analysis and targeting and current cyberspace operations. The general said the country is challenged by adversaries who continue to expand their range of capabilities across all of these domains, and that STRATCOM must continue to develop capabilities to defeat those adversaries.
The recently completed 2018 Nuclear Posture Review reinforces and clearly defines long-standing national objectives regarding nuclear weapons, while focusing on current and future threats, Hyten said. Providing nuclear deterrence is the lead priority for STRATCOM, the general added.
Hyten said the nuclear triad is critical to current and future success. This includes modernization programs, such as the B-21 bomber, the Columbia-class ballistic missile submarine, the ground-based strategic deterrent, the long-range standoff cruise missile, nuclear command and control, and life-extended nuclear warheads. He said these capabilities will undoubtedly meet the nuclear deterrent needs now and well into the future.
"To maintain military superiority in this multi-polar, all-domain world, we must out-think, out-maneuver, out-partner and out-innovate our adversaries," General Hyten said. "Deterrence in the 21st century requires the integration of all our capabilities, across all domains, enabling us to respond to adversary aggression any time, anywhere. Our forces and capabilities underpin and enable all other joint force operations. [STRATCOM] truly is a global warfighting command, and the strength of its command is its people. The soldiers, sailors, airmen, Marines and civilians of this enterprise have the most important mission in our entire department, in our entire nation. Their hard work and dedication ensures our nation's strategic capabilities remain safe, secure, reliable, and ready."
The general then added, "The bedrock of our nation's deterrence continues to be our safe, secure, ready, and reliable nuclear triad. We started the NPR with an assessment of the threat... and based our approach on what our adversaries are doing today and the increasing challenges of the future. The surest way to prevent war is to be prepared for it. While the current [nuclear] triad continues to provide the backbone of our national security, we will eventually consume the last remaining margin from our investments made in the Cold War. We have to remember that the strategic environment is dynamic. It changes constantly and our approach to deterrence must be equally dynamic to address these evolving threats. Sustained Congressional support will ensure we remain ready, agile, and effective at deterring strategic attack, ensuring our allies and partners today and into the future."