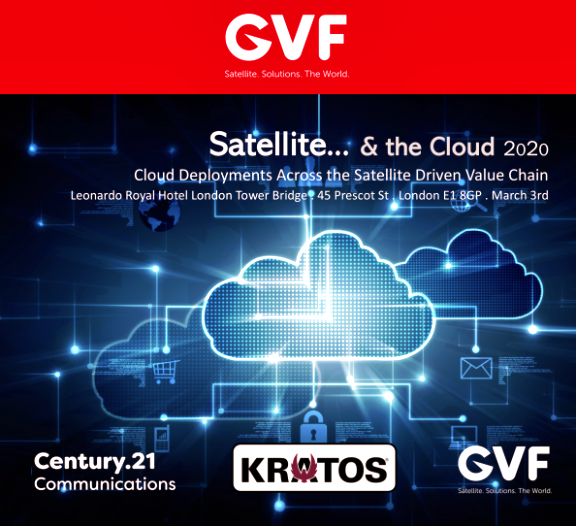 A diverse and innovative program of speakers – together with a cross-cutting group of companies representing the satellite, cloud, end-user groups and communications industries consisting of more than 80 registered companies – characterizes the uniqueness of the 'Satellite & The Cloud 2020: Deployments Across the Satellite Driven Value Chain' conference, which takes place at London's Leonardo Royal Hotel Tower Bridge on March 3.
The Satellite & the Cloud conference, a new addition to the GVF-C21 events portfolio, encompasses four key themes:
[1] A Satellite Operator's Perspective... New Capabilities in Space and New Realities on the Ground
[2] View from the Ground Segment... Transforming the Ground – Challenges, Innovations and a View to the Future
[3] Enabling Environment and Associated Technologies
[4] Embracing Opportunity… New Business Models and Financial Perspectives
This event has attracted the participation of a wide sweep of organisations all of whom share a vital interest in the continuing evolution of the Cloud-based services market.
With the satellite communications industry and Cloud-based services industry each positioning to leverage the capabilities enabled by the other industry, the number and range of organisations contributing to the conference program is revealing.
Interest in the event has been received at an unprecedented level and "free-to-attend" registrations have now been closed. Resulting from this very welcome but unexpectedly large number of delegates, and consequent on increases in catering and other costs, a registration fee is now required for anyone registering after 7th February 2020.
The conference program is supported by principal sponsor Kratos and Corporate Sponsors Hughes and Comtech EF Data and has engaged the participation of the 20 organizations that are featured in the speaker panels.
Attending delegates include representatives of Airbus Defence & Space; Amazon Web Services; Babcock International; BBC; bigblu; British Telecom; CNN; European Space Agency; ManSat; Marsh JLT Specialty; McKenzie Intelligence; Nethope; Network Rail; Rutherford Appleton Laboratory; Salesforce; and, SpaceX (with the full list available now).