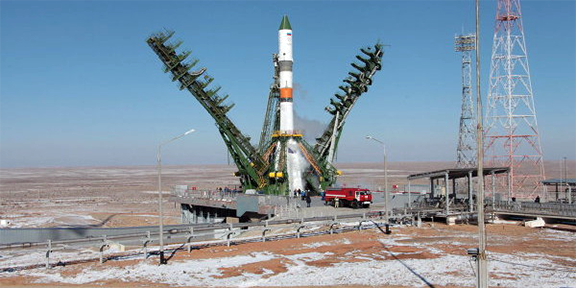 [SatNews] The launch of Soyuz TMA-17M spacecraft initially scheduled for May 26 will be shifted to mid-July, according to the spokesman for the Russian space industry.
"To provide manned launch safety, the decision was made to shift it to a later period, performing it two weeks after the launch of the next cargo vehicle which is scheduled for July 3," the spokesman said. "This approach enables the investigation into the cause of Progress accident launch on April 28, to conduct additional testing of the spacecraft and the booster and to make certain updates are applied, if necessary".
The launch of the next Progress will be also shifted. It was decided to speed up the of the next Progress cargo vehicle, which will now be launched on July 3rd rather than August 6th. Progress and Soyuz boosters will pass standard preparation operations at Baikonur, which will be handled by RSC Energia and the Progress Rocket and Space Centre.
Also reported was that Soyuz will be launched to the station on May 26. The main crew comprises Roscosmos cosmonaut Oleg Kononenko, JAXA astronaut Kimiya Yui and NASA astronaut Kjell Lindgren. The back-up crew includes Roscosmos cosmonaut Yuri Malenchenkom NASA Astronaut Timothe Kopra and ESA astronaut Timothy Peake. The Interdepartmental Commission was to approve the crews at a meeting to be held in Star City on May 8, but as the investigation of Progress accident causes hasn't been completed, the meeting was cancelled.
The Soyuz-2.1a booster with the Progress M-27M cargo vehicle was launched from Baikonur on April 28. In the moment of the vehicle's separation from the 3rd stage, telemetry data was no longer being received. Despite all the efforts to take control of the spacecraft, the specialists were unable to do so and the vehicle started descending. The investigatory commission is working to clear systems of suspicions, particularly the 3rd stages of the Soyuz-FG and Soyuz-2.1a, which are both equipped with the same RD-0110 engines. The Progress spacecraft and Soyuz have the same system of separation from the booster's 3rd stage. Following the results of the launch of April 28, this system now raises questions, especially as the propulsion modules and the adapter modules of these vehicles are almost identical.