[SatNews] On June 19, during the International Economical Forum in St. Petersburg, Roscosmos and Arianespace signed a contract which cover 10 additional missions of Russian Soyuz-ST rocket from Guiana Space Center (CSG).
The contract implies additional order of 10
Soyuz-ST
's and relevant support for the period up to 2016.
Some launches of the Russian rocket will serve for deployment of European navigation system
Galileo
. In total, 24 Soyuzes are to fly from French Guiana. The two new members to Arianespace's launcher family –
Soyuz
and
Vega
– will start their service at the Spaceport beginning in 2010-2011. With the three launch vehicles in full operation,
Arianespace
is targeting a flight activity of approximately 10 missions per year from French Guiana — composed of an average seven
Ariane 5
flights annually, plus two Soyuz missions and a Vega launch.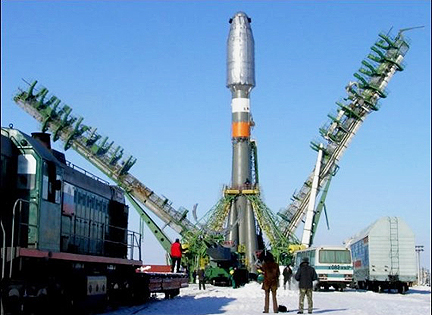 Soyuz-ST is a modification of the
Soyuz-2
three-stage launcher, with
Fregat
upper stage, adapted for the CSG's conditions. CSG's Soyuz launch site combines the proven design elements from the long-existing launch site at Baikonur Cosmodrome with satellite integration procedures that are in concert with the spacecraft processing used for
Ariane
missions. Located 12 kilometers northwest from the existing Ariane 5 launch complex, the new Soyuz facility extends the Spaceport's operational zone further up the French Guiana coastline. The assembly of Soyuz vehicles is handled horizontally in the launcher integration building, maintaining the process used for the more than 1,700 Soyuz missions performed to date.
The Soyuz' transfer to the Spaceport's launch zone is performed with the launcher riding horizontally atop a transporter/erector rail car. Soyuz is then raised into position on the pad, and in contrast with the Baikonur Cosmodrome processing flow, is protected by a gantry that moves into place for payload integration. The responsibilities are shared as follows: the Russian side provide development, manufacturing, delivery of Soyuz-ST, ground technological prelaunch and launch equipment, propellant components; European side provides development of the technical facilities, construction efforts, modification of the relevant space port infrastructure. Soyuz-ST launches are to be carried out jointly by Russian and European expert groups. Prelaunch processing, and Russian specialists operate Russia-delivered ground technological facilities at CSG.