Newtec will be presenting some new products at CommunicAsia located on Level 1, stand P2 - 01. They will also have representatives speaking at various forums. Some of the newest products are shown below, as well as the speaker's topics and schedules.
Newtec's complete HTS Solution Portfolio enables you to monetize your HTS capacity with the c Complete DVB-S2X Wideband Modem Portfolio:
Newtec helps you get the most out of DVB-S2X with the Newtec Dialog® platform and its complete modem portfolio that offers DVB-S2X up to 500 Mbaud.
MDM2510 is a cost-efficient Newtec Dialog modem suited for enterprise connectivityand replacement of an existing VSAT network with more efficient forward and return technologies.


Key Features include:
Compact size
500 Mbaud DVB-S2X ACM Forward
4CPM MF-TDMA Adaptive Return Link
The most optimal modulation and bandwidth allocation while guaranteeing the highest efficiency and availability with Mx-DMA return link technology
Embedded TCP acceleration and encryption
Multilevel QoS
Low jitter for real-time applications
DNS Cache/Relay
Support of IPv4 and IPv6
Multiple virtual networks supporting the modem
Over-the-air software upgradeability
Over-the-air monitoring and diagnostics tools
New Mobility Optimized Products: Newtec Dialog features new levels of performance, flexibility and customization targeting bandwidth intensive mobility customers.
As ships and airplanes move around the globe, mobile VSAT terminals often need to transition between satellite footprints. This process is known as "Beam Switching." While the concept seems simple, today's reality is surprisingly complex.
Changing Networks: Ten years ago, most mobile VSAT networks were small, with a limited number of beams and terminals. Satellite footprints were generally large, often covering entire continents and ocean regions. Back then, beam switches were relatively infrequent and beam choices were limited. This led to legacy switching solutions, implemented in the terminals themselves, using simple location-based logic.
Today's networks are exponentially larger and more complex, with thousands of terminals and hundreds of beams. The advent of High Throughput Satellites (HTS) has reduced typical beam surface areas by a factor of 50. Learn more here.

Newtec's Mx-DMA® Return Technology with Very Low SNR: Mx-DMA easily combines different terminal types and throughput demands with the highest efficiency available on the market. For small antenna terminals using Very Low SNR MODCODs you can double your throughput!
Efficient, Flexible and Reliable Satcom Solutions: supporting complex GOVDEF operations.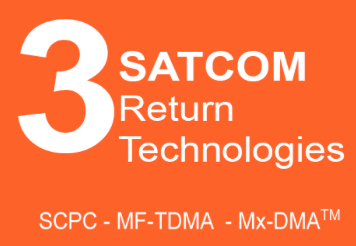 Cross-Dimensional Multiple Access (Mx-DMA) Return Technology
Newtec Mx-DMA is the return technology that incorporates the best features of MF-TDMA and SCPC technologies and at the same time solves the difficult choice to select one or the other. The Mx-DMA return technology on the Newtec Dialog Platform adjusts the frequency plan, the symbol rate, the modulation, coding and power in real-time for every terminal in the satellite network. These adjustments are based on the return traffic demand, the network QoS management and channel conditions for the terminal population in the network. Within the Mx-DMA return link each carrier is assigned to only one terminal. As such SCPC-like maximum return efficiencies are achieved.
Newtec's speakers' schedules and topics are as shown here:
At Casbaa Satellite Industry Forum:
The Way ahead — Yes / No / Maybe — The CEOs Opine
Speaker: Thomas Van den Driessche, CEO, Newtec
Monday, June 25 – 5.10 pm - 18.00 pm – Four Seasons hotel, Singapore
At CommunicAsia (NetworkComms Track):
How Satellite Will Play a VItal Role in the Successfull Roll-out of 5G
Speaker: Semir Hassanaly, Market Director Cellular Backhaul & Trunking, Newtec
Monday, June 25 – 3.30 pm - 4.00 pm – B2, back of Hall E, Marina Bay Sands
All-IP Newsgathering: Boosting SNG
Speaker: Hans Massart, Market Director Broadcast, Newtec
Tuesday, June 26 – 2.40 pm - 3 pm – IABM Theatre, Innovation Hub (6Q3-04), Suntec Centre