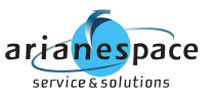 The lightweight Vega launcher's basic assembly has been completed by Arianespace as the company's third flight of 2017 moves into the final phase of launch preparations for the Sentinel-2B Earth Observation (EO) satellite mission scheduled for March 6 from the Spaceport in French Guiana.
This flight follows year-opening missions with the company's other two launch vehicles: performed February 14 with the heavy-lift Ariane 5 to orbit the SKY Brasil-1 and Telkom 3S telecommunications satellites for Brazil and Indonesia; and on January 27, using a medium-lift Soyuz to loft Hispasat 36W-1, Europe's first "SmallGEO" relay platform.
Vega has undergone this buildup on the pad during activity at the Spaceport's ZLV launch site, involving stacking of the vehicle's solid propellant P80 first stage, Zefiro 23 second stage and Zefiro 9 third stage, topped off by the liquid bi-propellant AVUM upper stage.
Designated Flight VV09 in Arianespace's launcher family numbering system, the March 6 liftoff will be Vega's ninth mission since the February 2012 service startup of this launcher, which is manufactured by Italy's Avio Group through their ELV subsidiary with the Italian Space Agency, and has been evolved in a European Space Agency-sponsored program.
The Sentinel-2B passenger for Flight VV09 will join the European Union's EO satellite fleet called Copernicus, which has the goals of providing information for agricultural and forestry practices, assisting the management of food security, tracking pollution in lakes and coastal waters, along with delivering disaster mapping and helping humanitarian relief efforts. As part of Sentinel-2B's processing at the Spaceport, the satellite underwent a solar panel deployment test this month and was then fueled with 133 kg of hydrazine propellant and enclosed in the Vega's payload fairing.
Sentinel-2B's launch will follow the orbiting of Sentinel-2A on a previous Vega mission that was performed in June 2015. Development of the Sentinel-2 satellites results from a close collaboration involving the European Space Agency, the European Commission, service providers and data users. A consortium of some 60 companies was led by Airbus in designing the mission and building the spacecraft, supported by the French CNES space agency and the DLR German Aerospace Center.
The March 6 mission with Sentinel-2B continues a busy year for Arianespace's launch services, with a total of 12 flights targeted during 2017 from French Guiana using the light-lift Vega, medium-lift Soyuz and heavy-weight Ariane 5.