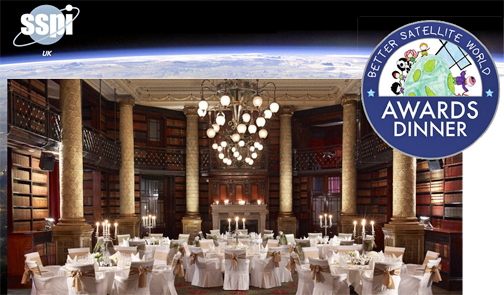 Upcoming on December 5th at London's One Whitehall Place is the UK Chapter of the Society of Satellite Professionals International (SSPI) event — the Second Annual Better Satellite Awards 2016 dinner — with a presentation offered attendees by David Morris, the Chair of the UK Parliamentary Space Committee.
The long-established and well respected all-Party Parliamentary Space Committee raises awareness in and around Parliament of the importance of space-based applications to the UK economy, to policy, to society and to the sciences. Also, the Committee highlights the UK's leading role in the global space economy and the benefits from the UK's space investments. During the Awards Dinner, David will update guests regarding the UK's Space industry strategy and the latest discussions in the parliament in relation to the satellite sector.
At the dinner, SSPI will honor the four recipients of the 2016 Better Satellite World Awards: DigitalGlobe, Disaster Tech Lab supported by Globalstar, Global VSAT Forum and Outernet. Select this direct link to read more about the Awards Recipients. Also at the Dinner, Catherine Mealing-Jones of the UK Space Agency will be awarded with the first ever UK Chapter Satellite Personality of the Year Award. The Satellite Personality of the Year Award is an award from the UK Chapter of SSPI that celebrates an individual for their achievements in the promotion and development of the satellite sector in the UK.
Betty Bonnardel, Chair of the UK Chapter, said, "As a new SSPI Chapter, we are very pleased to welcome the second SSPI Better Satellite Awards in London and to award the first SSPI UK Satellite Personality of the Year Award to Catherine Mealing-Jones, from the UK Space Agency."
Tickets may be obtained for the Better Satellite World Awards Dinner, as well as additional information at uk.sspi.org/events/better-satellite-world-awards-dinner-2016-1.
What is the Better Satellite World Campaign? Working with partner associations and dozens of supporting companies around the world, the Society of Satellite Professionals International's Better Satellite World campaign (bettersatelliteworld.com) is changing the global conversation about satellites and their influence on the economy, business and societies everywhere. The campaign was launched at SATELLITE 2015 and has since published a series of stories and videos that dramatize the immense contributions of the "invisible infrastructure" of satellite to life on Earth, which are widely shared by individuals, companies and the media.