[SatNews] What caused an initially successful launch to get lost is being investigated.
A Proton Breeze M vehicle carrying the
Express-AM4 satellite
launched from the Baikonur Cosmodrome in Kazakhstan
performed nominally, and the ascent unit including the Breeze M upper stage and the spacecraft separated at the appropriate time. Contact with the Breeze M and spacecraft was lost after the fourth burn of the Breeze M upper stage.
Roscosmos specialists have attempted to contact the spacecraft using all the data acquisition stations of the Baikonur Cosmodrome. They have succeeded in locating the Breeze M upper stage.
The Russian Express-AM4 communication satellite, missing after Thursday's launch, could not separate from the booster and was found off the designated orbit, a source in the Russian space program said on Friday.
The specialists are currently processing the telemetry data in their possession.
During the ascent unit injection there occurred irregularities in telemetry data downlinking and reception of signals from both the Breeze M and the SC.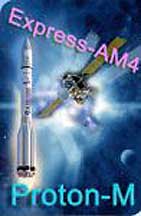 A Russian State Commission of inquiry has been established and has begun the process of determining the reasons for the anomaly
.  ILS will release details when data become available.  In parallel with the
State Commission, ILS will form its own Failure Review Oversight Board (FROB)
.  The FROB will review the commission's final report and corrective action plan, in accordance with U.S. and Russian government export control regulations.
ILS remains committed to providing reliable, timely launch services for all its customers.  To this end,
ILS will work diligently with its partner Khrunichev to return Proton to flight as soon as possible.
Further updates will be provided on the investigation as they become available.