[SatNews] "The success of Central and Eastern European economies in recent years makes this a region with very high potential"....
Exterity, provider of IPTV communication technologies to the enterprise and professional AV communities, announces the appointment of Richard Waldner as Sales Director for Central and Eastern Europe. Richard takes charge of the new Exterity office in Munich and will be responsible for driving the company's on-going expansion in the region.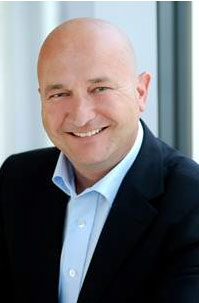 Richard joins from Avid Technology, the digital audio and video specialists, and has a long and successful track record in multimedia technology sales. Prior to joining Avid Technology, Richard spent more than 10 years at Adobe Systems, where he was responsible for developing the company's channel program.
At Exterity, one of Richard's main roles will be to develop the company's regional channel program, and to work with technically-expert partners to deliver IPTV systems to a large range of organizations and industries.
The new Munich office will support the expansion of Exterity as it targets new growth markets, particularly in Poland, Russia and Ukraine, as well as Central European countries such as Germany, Switzerland and Austria, where enterprise IPTV is more firmly established.
"The success of Central and Eastern European economies in recent years makes this a region with very high potential, as a whole range of enterprises and vertical markets start looking at how they can improve their operations and communications with IPTV," said Waldner.
"There are tremendous opportunities for IPTV vendors, not least in the broadcast, automotive, financial and transport sectors," he continued. "To target this market most effectively, however, we need to continue developing relationships with systems integrators and other partners who have a high degree of technical understanding. Part of the role is also to act as an evangelist, and to show how the latest IPTV technologies can transform operations from the newsroom to boardroom, from the airport to the trading floor."
Exterity helps organizations maximize the value of TV and video content by delivering it over an existing IP network to TVs, PCs, and AV display equipment. Exterity IPTV solutions are scalable, easily adding more end points while maintaining broadcast quality. The company's technology enables users to create and manage tailored TV, Video on Demand, radio and interactive pages that fully engage viewers across multiple screens and devices.
Exterity CEO Colin Farquhar said: "We already have a good presence in the region, but the addition of Richard to the team, and the new Munich office, strengthens us significantly and positions us perfectly to take advantage of opportunities in these markets. Richard's experience in the Central and Eastern European multimedia channel will be invaluable to Exterity as we continue to grow the business in the region; and of course, as an Austrian he gives us further advantage in German-speaking countries.
"In his new role, Richard will be able to demonstrate successful deployments of existing Exterity IPTV systems in various industries around the world, and to show resellers how these technologies can bring enormous value to their customers," concluded Farquhar.