[Satnews] NSR's VSAT and Broadband Satellite Markets, 14th Edition's study includes three key segments: enterprise VSAT networking, wireless backhaul and satellite-based consumer broadband Internet access. The industry leading assessment covers the installed base of sites or subscribers in six different regional markets, investigates trends impacting market growth, forecasts service and equipment revenue, and predicts satellite capacity requirements for provisioning each market vertical.
Widebeam C-band and Ku-band coverage together with an HTS breakdown into C-band, Ku-band, Ka-band and non-GEO HTS is now a standard part of this report. In addition, this study provides a vertical, application and network segmentation that allows the reader to focus on market segments most relevant to their business.
The main issues and questions addressed in the study include:
What are the trends driving or restraining growth in the installed base of sites or subscribers for each market vertical and region?
What are the implications of the emergence of HTS in evolving Business Models for Service Providers, equipment Vendors and Satellite Operators?
How are market elasticity and downward trend in pricing creating new demand and opening new markets?
What are the new markets, services and applications that will create growth opportunities for the whole industry?
Who are the main players in each industry segment, and what have been their key successes in the last year?
What are the revenues to be generated from service provisioning and customer premises equipment (CPE) sales in each region and market vertical?
What is the satellite capacity demand for each service in each region, and how is this being provisioned?

NEW in this Edition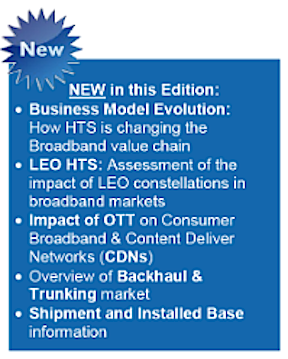 NSR has constantly worked towards making its research more relevant to all players in the satellite industry across space segment, ground segment and service providers. The VSAT and Broadband Satellite Markets, 14th Edition study adds new segments to achieve this relevance.
For consumer broadband this means data is now also split by residential and SME/SOHO customers, and there is focus on both installed base and shipment information. Detailed discussions are provided for different package levels, impact of OTT and National Broadband programs. NSR also adds a discussion on how the emergence of HTS is influencing the evolution of Business Models across the different layers of the value chain. After a year full of announcements for LEO constellations, this edition includes an assessment of the possible impact of these networks in broadband markets.
With Netflix accounting for over 30 percent of capacity at peak periods in North America, it is clear the OTT and Video have an impact on telecommunications infrastructure. NSR includes in this report its analysis of the OTT impact for consumer broadband and also new opportunities for serving Content Delivery Networks (CDN). While Backhaul and Trunking is also covered in complete detail in NSR's Wireless Backhaul via Satellite, 9th Edition, this year's broadband report also includes a section on this topic as well.