Inmarsat Government (L-TAC) has won the "Top Government Mobility Satcom Innovation" category in the Mobile Satellite Users Association's (MSUA) 2018 Mobility Innovation Awards for its L-band Tactical Satellite (LTAC) service.

The L-TAC service provides an L-band satellite channel that can, in combination with the SlingShot system from Spectra Group (UK) Ltd, provide global beyond line of sight (BLOS) communications on the move (COTM), on any platform or in a dismounted role, for military Ultra High Frequency (UHF) and Very High Frequency (VHF) users.

There is also a SlingShot system available for commercial VHF frequencies. Using in-service tactical radios, the L-TAC/SlingShot solution enables secure voice and data capability on existing radio networks across any operating area without requiring additional user-provided terrestrial infrastructure.
The service is implemented using a single hop through the Inmarsat-4 satellite system via directly connected L-band uplinks and downlinks, providing users with the same experience as operating with UHF satellite communications, but through a cost-effective L-band satellite channel and adding the vital capability of COTM.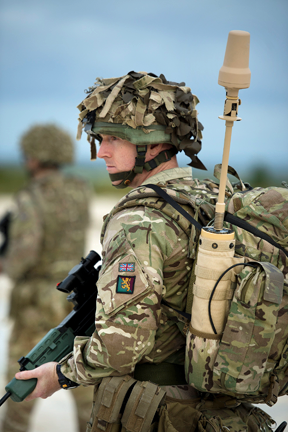 With the changing nature of military action, forces acting asymmetrically require a highly coordinated strategy that relies heavily on reliable and secure communications systems. If organizations are working in Coalition and are using different communication frequencies, SlingShot enables their disparate systems to all work over L-TAC, unifying the communications net. This is why L-TAC/SlingShot is already in use by a large proportion of NATO armed forces, supporting operations around the world and providing mission-critical command and control and coalition interoperability.
The commercial variant provides capability for police, fire and medical support services, emergency services, aid agencies, embassy communications, border patrol and other civilian agency use in support of humanitarian assistance, disaster relief operations and other multi-department requirements.
SlingShot allows in-service tactical radios to operate over L-band providing BLOS COTM for seamless secure tactical and strategic Command & Control communications.
Small, lightweight and drawing low power, SlingShot can be used on any platform, providing a game-changing capability, extending tactical communications to where it is needed. SlingShot's omni-directional antenna enable personnel travelling on foot, in vehicles on water or air, to maintain communications where other systems fail.With reduced cost compared to traditional TACSAT, increased channel availability and minimal increase in the training burden SlingShot and L-TAC are redefining tactical communications.
Steve Gizinski, CTO, Inmarsat Government, said that government users around the world must have access to reliable communication capabilities, whether they are in an airplane or vehicle, on a boat or on foot, and Inmarsat Government's L-TAC service is empowering these communications — even in the most austere environments.
Spectra CEO Simon Davies added that the company is delighted to be part of Inmarsat Government's winning of the Top Government Mobility Satcom Innovation Award. Using Inmarsat's world leading global constellation of geostationary satellites, SlingShot gives the unique capability to access single-hop real-time Beyond Line of Sight Communications, with no need for terrestrial infrastructure, no matter the location.